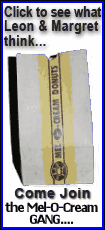 It is by having this advantageous spot that Moore is able to see everyone who comes in as well as see the staff and children as they move around the facility. A visitor is always greeted with a hello from Moore, but she doesn't say hello, she sings hello.

When interviewed, Moore was busy making sure all the tickets for that evening's lasagna dinner were dispersed, and she laughed when asked just how many fundraisers the center has. "We have one about every two minutes," Moore said. The calendar on the wall showing cookouts, garage sales and more almost every week bears out how active the center is at working to obtain additional funds.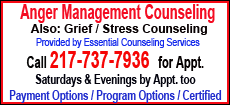 That evening, cars lined up early to pick up the meals. It was a case of everyone showing up at the same time, which would have many people flustered, but not Moore. Instead she walked the snake of vehicles, taking tickets, visiting and smiling and enjoying the moment as she does in every moment she spends at the center. Often she would be singing as she walked along. Her enthusiasm if anything must be considered contagious if you spend any amount of time with her.
It is this joyful attitude, coupled with a solid business mind, that has taken the Christian Child Care Center from shaky financial ground to an organization that is on a solid track for financial independence. Just short of a year ago, Moore was hired to take over a facility deep in debt and past due on many bills. There was talk that the center would have to fold due to finances, and that caused parents to pull their children and move them to other day care facilities before those other facilities ran out of available openings. Moore, along with a new board of directors, came in with a solid and positive business plan, and the results are nothing short of stunning.
In just one year the center has paid off $45,000 of their debt. "Right now we have three big bills left: an IRS debt, the bank mortgage, and we owe the Odd Fellows," Moore explained.
When asked what this year's goals were, she showed just how positive she thinks. "We would like to be debt-free by the end of the year," she said.
Bill Martin, CCC board president, wanted to praise Moore's stellar efforts. "I think that Coleen has been a marvelous director," he said. "With her people skills, her leadership skills and knowledge of the child care industry, she has really been invaluable to us in our recovery from a difficult financial situation."
An interview with Moore means there will be frequent interruptions. Once, the Head Start bus came for a youngster, and when a teacher was busy with another student, Moore got up, went to the class and walked the young boy to the bus. Another time, kids coming back from lunch came into the office to see Coleen before returning to their class. They milled around her like they would their mom, each vying for attention as they told her what they had for lunch. The children were clinging and wanted hugs, which Moore readily gave.
Moore knows each student well, and it is obvious in the interaction between students and her, as well as staff and students, that besides enthusiasm, the center has a great emphasis on caring and nurturing.
Although Moore is energetic and extroverted, she also has a solid business sense. When asked how the center had changed in the past year, Moore didn't need to look anything up. "We sometimes approach 80 students. Currently we have 23 children who are in foster care and another 28 who we receive a portion of the expense of their care from the state," she said. "We also have eight drop-in students here from time to time." This is in contrast to the 56 children at the center the first day Moore was on the job.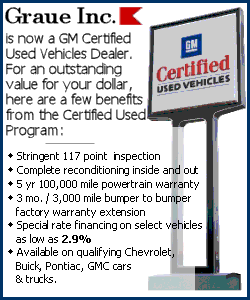 "We use best business practices. I am surrounded by a great staff and we have a wonderful board of directors, and that helps so much," she relayed. Those best business practices, along with a strong dose of enthusiasm, are helping Christian Child Care to grow.
The center also has lofty educational goals besides financial ones. Moore and staff are working on obtaining three-star accreditation with the state. This accreditation would mean more money to help run the facility. The center relies a great deal on state reimbursement for many of their students, and Moore says that currently they are not having the problems with delays in disbursements that many other agencies and organizations are having with the state.
Moore likes to blend youthful fun and the students' inquisitive nature into a learning situation. According to Angela Stoltzenburg, director of the Community Action Partnership of Central Illinois, Moore recently went to the Head Start locations to show teachers how to bring enthusiasm into their "Reading Is Fun" program.
Moore believes including fun and using a child's inquisitive nature to learn is important. "Each class has an educational component in each day's activities," Moore said. The child care facility also stresses fine motor, cognitive and self-help skills, but all in an environment where the child feels safe and nurtured.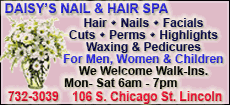 Recently youngsters had a "walk on the moon" project that had them creating rocks and spaceman equipment for their sojourn. Afterward the students received official certificates that they had walked on the moon. They also learned about our cosmic neighbor, as well as other things about space, but all in a fun atmosphere that didn't even seem like learning to the youngsters.
The age acceptance of 6 weeks to 13 years means there are many different challenges, but the entire staff has taken on the caring, nurturing love of kids and caring attitude of their director.
Moore and her husband, Eric, have two children: Caitlin, 9, and Alex, 8 years old. Asked if her children ever visit her day care, she said, "Oh, yes, when they can, they come. They love it here." It seems all the children love it at Christian Child Care, as do the parents who entrust the staff to take good care of their most loved treasures, their children.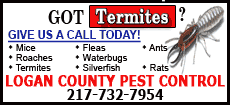 It is this enthusiasm and commitment to caring for young children that has made Coleen Moore this week's Personality of the Week.
[By MIKE FAK]