Lincoln College head volleyball coach Mark Tippett thinks all the new players will add a certain spark to his program. "I am very excited about this recruiting class," he said. "We have several strong players joining us who have experienced success at the high school and club levels."
Tippett said he is confident that the incoming players will work well with the other talented returning players next fall. "I needed to replace several starts from last year's team, but I believe the players that are coming in have the potential to step in, play at a high level right away and keep us competitive," he said. Lincoln College has only one scholarship roster spot left to fill for next year's team.
Emily Fox comes from Springfield's Southeast High School, where she was a three-year varsity team captain and was named to the first team all-conference for the Central State Eight. Fox led her high school team in assists during both her junior and senior years. Tippett says Fox has versatility, which first impressed him. "Emily is a good passer and defender as well as being consistent at the service line," he said. "She has great hands and is very quick to the ball, which will put her in a position for a starting spot as a setter in our 6-2 system."
Megan Schaefer is an outside hitter from Meridian High School. During her high school play she achieved the hustle award during both her junior and senior year at Meridian. Tippett is happy with how smart Schaefer plays. "Megan is a good athlete and has solid fundamentals as a passer. I'm confident her skills will translate well in the faster-paced collegiate game," he said. According to Tippett, Schaefer will compete for playing time in three positions: as an outside hitter, a defensive specialist or as a right-side hitter.

Abbie Hare comes to the Lynx from Eastland High School, where she was co-captain of the 2008 Class A state champion team. She's a middle hitter and was named to the all-conference second team. Tippett likes her enthusiasm. "Abbie has experience in a winning program and understands what it takes to compete at a higher level of play," he said. "I look forward to working with her and to watch her adapt to the next level."
Natalia Florczyk comes to Lincoln College from Main East High School, where she was named most valuable player four years in a row. She served as team captain for the Blue Demons and was recognized with the CSL Leadership Award for two consecutive years. Tippett says he's excited to have Florczyk on the floor for the Lynx. "I believe she has the potential to be an outstanding college player," he said. "I expect her to be a big contributor for us next season."

[to top of second column]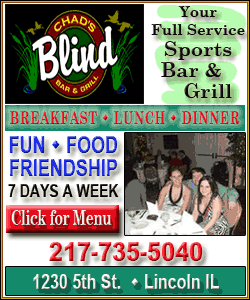 Danielle Stephenson is a right-side hitter from Trico High School. She was named to the first team all- conference as well as the offensive player of the year in 2008. Tippett said he was concerned about Stephenson's overall health. "An ankle injury kept Danielle out of action for much of her senior year, but I'm confident she'll be 100 percent for the start of our season in the fall," he said. He is looking forward to working with Stephenson, who has a left-hand swing, because she will give the Lynx some new offensive options.
Kassie Klotz is a middle hitter from St. Bede Academy in Peru, where she was named to the Daily News Tribune All-Area team. Serving as a co-captain during her senior year, she was a three-year varsity starter and achieved second in kills and blocks for the Bruins. Tippett said he was impressed with Klotz's depth and experience. "Kassie's height in the front row makes her a valuable addition to our team," he said. "She played through a knee injury her senior year, which, according to all indications, is healing well." He said Klotz continued to play through the injury. "By playing, this shows me that she is a dedicated player who will bring toughness to our team," he said.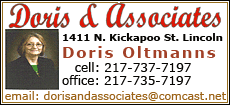 The Lynx will start their season in mid-August and welcome back Kaylah Murphy from Canton; Chelsea Barr from Deland, who started in the libero position for the Lynx; Gretchen Rieger from Trenton, who received all-region and all-conference honors as an outside hitter; Samantha Murphy from Salem; Melanie Herbeck from Columbia, who was the starting setter for the Lynx; and Lara Dawson from Mulkeytown, who will switch to the middle hitter position.
[Text from file received from Jean Ann Miller, Lincoln College director of communications]