Shrine Club, LCGHS, Zion Lutheran, Humane Society and Armington fundraiser all in Close Up
By Mike Fak
[April 17, 2009] Logan County Shrine Club has roses for sale, $17 per dozen, just in time for Mother's Day. Orders must be placed by Monday, May 4. Pickup is Friday, May 8, at Lincoln Eagles Lodge. Place your orders by calling Doug DeMay at 735-1163, Don Peasley at 732-8141 or Steve Aughenbaugh at 735-5551. Buy a dozen roses (or more!) this Mother's Day and support the Logan County Shrine Club.
---

The Logan County Genealogical and Historical Society monthly meeting will be held on Monday, April 20, at 6:30 p.m. at 114 N. Chicago St. The program will be presented by Chris Miller of the NOAA weather station. The public is welcome to attend.
---

Zion Lutheran School third-quarter honor roll
High honors
3rd grade: Nathan Ford, Katie Hunsley, Emma Ritterbush
4th grade: Heather Heidbreder, Zack Prather, Isabelle Thompson
5th grade: Lizzie Ford, Lexie Groves
6th grade: Aaron Butler, Emma Nobbe, Logan Thompson
7th grade: Bradley Miller
Honors
3rd grade: Ashlan Broom, Emma Cooper, Mya Roberts
4th grade: Danielle Burgrabe, Claire Conrady, Brooklyn Hermes, Anna Sielaff, Hailie Williams
6th grade: Josh Mangano, Lukas Nash, Jim Sielaff, Faith Smith, Grace Walters
7th grade: Kathryn Arneaud
8th grade: Grace Sheley
Honorable mention
3rd grade: Lance Podbelsek
4th grade: Sydney Johnson, Kalyn Roberts, Braydon Simpson
5th grade: Caleb Fink, Taylor Rich, Ben Steiner, Anna Walters, Breanna Whittaker
6th grade: Kaya Albert, Allie Cox, Tori Hoban, Caitlin Williams
7th grade: Justin Broom, Megan Opperman
8th grade: Karli Cox, Brent Hunsley, Sam Opperman, Jason Sheley
---

The Humane Society could use some help with foster parenting. Although the membership is strong, there is still a need to find temporary homes for the animals in our community.
You also can help by becoming a member, and there are several tiers of membership to fit everyone's financial situation. The categories for membership and the dues are:
INDIVIDUAL

BUSINESS

$500 advocate

$250 friend

$100 buddy

$50 family

$25 individual

$10 student/senior

champion (open amount)

$1,000 patron

$500 benefactor

$250 partner
Anyone interested in joining can call 217-737-4042 or visit www.hslclincoln.org.
---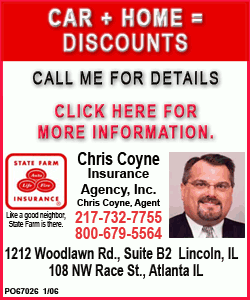 Fundraiser in planning stage for Armington Park District. On May 30, Armington citizens are planning a fundraiser for the Armington Park District Gym. There are many major repairs that need to be done. They feel there is a need for the community to come together and "help save our gym." At the present time work has been started on the roof. Due to the roof problems, repairs are also needed on the gym floor and gym ceiling. The park district commissioners would like to have a community fundraiser instead of asking for more taxes for these repairs.
At the present time there are plans to have music and food, but they need your help in planning this event. If you are interested in being a part of this effort to "Save Our Gym," please call Kay Stroud at 392-2548 or Dixie Percival at 392-2828. Your interest, ideas, suggestions and help would be appreciated.
---
Got a good piece of news, information or something that we can all brag about? If you do, e-mail Mike and let us tell everyone about it. Plus you can win cash. Every submission, whether we use it or not, will get your name in the "Close Up" grab bag. At the end of the month we will draw a name and someone will get $25 just for dropping us an e-mail. If you wish, we will be happy to donate your winnings to the organization of your choice.
You can contact Mike at mikefak@lincolndailynews.com.
[By MIKE FAK]