For information on Lincoln Area YMCA programs and events, visit the downtown office, 604 Broadway St., Suite 1; www.lincolnymca.org; or call 735-3915. The YMCA Activity Center is at 719 Wyatt Ave.
YMCA notes

Send a link to a friend
[April 25, 2009] All the kids in the yard yell "WEEEEEEE!" for YMCA Weeball. May 23 is the magic date for this six-week instructional program for children 4 years through kindergarten. What participants will take away from this HOME RUN program are the basic skills necessary to play baseball, including how to throw, catch, hit and run the bases, along with playing an abbreviated game.
Mission Impossible, 007 and Capture the Flag are only some of the scenarios planned for YMCA Paintball. Starting May 16, the YMCA will offer a two-hour, no-impact paintball program that teaches the fundamentals of paintball and how paintball markers work. Participants will work through the process of firing, maneuvering around obstacles and learning how to move and think as a TEAM. All equipment is supplied, with safety as our first priority.

There are only two weeks left to take advantage of early YMCA Summer Day Camp registration. Weekly and daily rates increase after May 6, so hurry and get your kids signed up. Let the YMCA be your place for summer fun. We offer Kid Camp for kindergarten to third grade, Preteen Camp for fourth to sixth grade and Counselor in Training Camp for seventh to ninth grade. All day camps begin June 4. Participants will enjoy craft fun, playing in the park, sports clinic, outdoor fun, water play, daily swimming, guest speakers, various field trips and so much more. Register now as space is limited and fills up quickly.

YMCA Swim Lessons are the place to go for your swimming needs. All lessons are at the Lincoln Elks Club pool, with lesson times available in the morning and evening. We offer a variety of ability levels from 6 months (with parent) to 12 years. Lesson dates for Session A are June 22-July 3; register by June 8 to avoid fee increase. Session B is July 6-17; register by June 22 to avoid fee increase. Session C is July 20-31; register by July 6 to avoid fee increase. Class size is limited, so register early.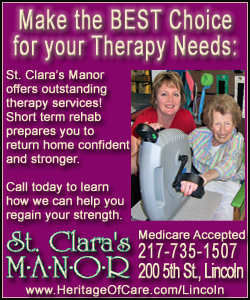 The Bike Trails Advisory Council will sponsor its annual Spring Family Ride on May 17. Registration begins at the YMCA Activity Center on Wyatt Avenue at 12:30 p.m. The ride will begin promptly at 1 p.m. Raffles for prizes will total well over $100. The maximum fee for a family will be only $15; individuals pay $5. The proceeds will support bike paths and recreational trails in Logan County.
Have you seen the front window at the YMCA? It's full of fun and frivolity, all for the YMCA's third annual Cow Chip Bingo. This FREE family event will be on May 9 from 12:30 to 3 p.m. This is an event you don't want to miss. There will be of course, Cow Chip Bingo, plus the Christian praise rock band One Day Closer, a three-in-one inflatable bouncer, food, games and contests, archery and paintball demonstrations, raffles, and so much more. Also, several local agencies will be in attendance, including Lincoln Rural Fire Department, D.A.R.E., the Logan County Sheriff's Department, the Humane Society of Logan County and Mayor Keith Snyder. If you haven't done so, stop by the YMCA office to get your $15 Cow Chip Bingo ticket for a chance to win $750.
[Text from file received from Lincoln Area YMCA]