First Presbyterian Church, St. John's Lutheran Church in Hartsburg, LCHS Class of '66, Zonta scholarships, Zion Lutheran School and Humane Society's good news make the Close Up
By Mike Fak
[April 28, 2009] First Presbyterian Church has 20 tickets available for the Peoria Chiefs baseball game on June 5 and is offering them to people within the community. The tickets will be given away on a first-come, first-served basis. There will be a limit of four tickets per family. A parent or guardian is required to attend with those under the age of 18. Transportation will be provided to those who wish to carpool with us. Please call the church office at 732-6141 between the hours of 8 a.m. and 1 p.m. to reserve your tickets.
---

The Naomi-Ruth Circle of St. John's Lutheran Church, Hartsburg, invites women of all ages to their annual Ladies Tea on Sunday, May 3, at 4 p.m. "Heirlooms and Treasures" is the featured theme, and ladies are encouraged to bring a collectable or heirloom and share their story. Musical selections will be provided by Joye Anderson, Donna Twist, Connie Drake and Caryn Collins. A spring salad buffet will be served following the program. Reservations are suggested and can be made by calling Erin Eeten at 642-5328 or Kathy Rohlfs at 376-3120. Donations are welcomed.
---

Members of the Lincoln Community High School Class of 1966 are invited to a get-together on June 6 at California Bar & Grill, 203 Madigan Drive, Lincoln (west of old Route 66), from 5:30 p.m. to ?
This is not a typical class reunion, just a get-together. That means there is no registration, no reservations needed and no money upfront. June 6 will be another International Night buffet at California Bar & Grill where you can eat Mexican, Italian, German, Chinese and American. Or you can just order from the menu. It's Dutch treat, so you make the choice.
Mark the date: Saturday, June 6. Pass the word; no invitations are being sent out. We look forward to seeing you.
---

Zonta Club of Lincoln announces scholarship winners. Samara Shane of Lincoln and Mary Jane Letterle of Mount Pulaski are the recipients of this year's Zonta Club of Lincoln scholarships. Ms. Shane will be attending Illinois Wesleyan University to obtain a Bachelor of Arts degree in nursing. Ms. Letterle will be attending Lewis University to obtain a degree in diagnostic medical sonography.
---

Zion Lutheran School is sponsoring a plant sale on Saturday, May 2, from 9 a.m. to 2 p.m. Hanging baskets, geraniums and New Guinea impatiens are among the flowers that will be sold. All plants are from Connie's Country Greenhouse in Latham. Zion is located at 1600 Woodlawn Road in Lincoln. Proceeds from the plant sale will benefit educational programs at the school.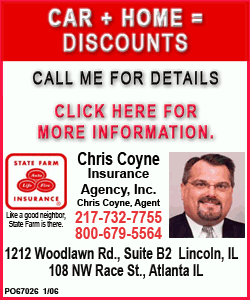 A red min mix dog we took from Logan County Animal Control has found a forever home by being adopted by a lady from Bloomington. The lady and her daughter live with her parents, so actually, the whole family is involved in adopting Sweet Pea. Sweet Pea has had so many changes in her life in a short time that she is perpetually scared, but the family is a very patient and loving family. Sweet Pea will be just fine. She already has a cushy bed and a basket, a dress, a dozen stuffed animals, a new collar and leash, and a nightlight so she can find her food and water at night. Do you think she might get a little spoiled?
---
Got a good piece of news, information or something that we can all brag about? If you do, e-mail Mike and let us tell everyone about it. Plus you can win cash. Every submission, whether we use it or not, will get your name in the "Close Up" grab bag. At the end of the month we will draw a name and someone will get $25 just for dropping us an e-mail. If you wish, we will be happy to donate your winnings to the organization of your choice.
You can contact Mike at mikefak@lincolndailynews.com.
[By MIKE FAK]