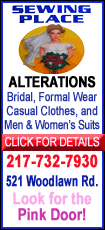 IDOT announced Tuesday that 140 employees will move to a new site in Springfield. That means they won't have to decide whether to follow their jobs to southern Illinois -- where the former governor wanted to move them.

IDOT spokeswoman Paris Ervin says the division's current lease in a building near IDOT's headquarters expires Sept. 30. The division will take up residence in a north-side building the state is buying.

A spokeswoman for the Department of Central Management Services says that will save the state $1.7 million a year.

Former Gov. Rod Blagojevich wanted to move traffic safety to Harrisburg. Gov. Quinn reversed that decision last month.

Copyright 2009 The Associated Press. All rights reserved. This material may not be published, broadcast, rewritten or redistributed.