Library notes

Send a link to a friend

[August 04, 2009] Summer Reading Program a success

This year's Summer Reading Program wrapped up with an awards program on July 30. T-shirt prizes were distributed to participants who reached their reading goal, as well as awards for top readers in each age level and prizes in a drawing for the preschool "readers." If you reached your reading goal but were unable to attend the awards program, come to the library soon to pick up your T-shirt. Our "Read on the Wild Side" program was a great success this year, with over 500 kids signed up to read, from 6 months old to teenage. Hope you all enjoyed it as much as we did!

The Lincoln Public Library is located at 725 Pekin St., with adult nonfiction and reference materials in the historic Carnegie Building. In the Annex Building directly behind are adult fiction and the Youth Services Department. All library events are free and open to the public. On the Web, visit www.lincolnpubliclibrary.org.

Hours are Mondays, Wednesdays and Fridays, 9 a.m.-5 p.m.; Tuesdays and Thursdays, 9 a.m.-7 p.m.; and Saturdays, 9 a.m.-1 p.m. Phone 217-732-8878 for adult services and 217-732-5732 for youth services.
Teen wins a Wii
In addition to the standard weekly drawings during the Teen Summer Reading Program, teens could also choose to enter the special drawing to win a Wii game system. In addition to a minimum of 1,000 pages read, teens signed up for three hours of volunteer work at the library. Names of those completing these requirements were then entered into the special drawing. Our teen winner of the Wii game was Kelsey Shanle. Congratulations, Kelsey, and thanks to all the teens who volunteered their time to help during our busy Summer Reading Program. All your work was greatly appreciated!
NoveList
Now on our Web site are links to NoveList, an online database of fiction titles for adults, and NoveList K-8, specifically for elementary and middle school children. Logging in with your Lincoln Public Library District card number will let you search for books by author, title, series or description of a plot. Click on "Author Read-alikes" to help you find authors who write in a similar genre that you enjoy reading. Also investigate "Award Winners," "Book Discussion Guides" and "Feature Articles" for a wealth of information. You can even establish a file to keep lists of titles for future reading, as you are sure to find more titles than you can read at one time.
Miss Lou's blog
Louella Moreland, youth services librarian, has a blog that can be found by linking through www.lincolnpubliclibrary.org. She will discuss new books, introduce our programs, take polls and ask for your ideas. Look for pictures of our summer activities!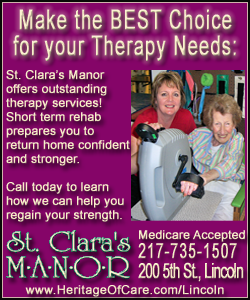 Read all about it!
There are many newspapers available in the historic Carnegie Building. Peruse the Chicago Tribune, The Courier, Illinois Agri News, Decatur Herald & Review, Peoria Journal Star, Champaign News-Gazette, Bloomington Pantagraph, St. Louis Post-Dispatch, Springfield State Journal-Register, USA Today and The Wall Street Journal.
Live Homework Help
Log on to www.lincolnpubliclibrary.org to get help from a live tutor. The one-on-one help is available to kindergarten through adult learners in math, science, English, social studies and writing. Use your Lincoln Public Library card number to log in.
[Text from file received from Marlene Perry, Lincoln Public Library]