Healthy cooking class, quarter midget regional race, Humane Society, and complete art and balloon fest information all in Close Up
By Mike Fak
[August 18, 2009] Healthy Cooking: Caring for Cancer in the Kitchen
Aug. 20, 10-11:30 a.m. at The Oasis senior center
Most of us know a friend or family member who has battled cancer. For cancer patients and their caregivers, both cooking and eating are a challenge, especially with side effects from cancer treatments and the symptoms of various types of cancer. Come learn about ways to help a friend or loved one with cancer to ease discomfort, to cope with digestive side effects of radiation and chemotherapy, and to boost nutrition and well-being during recovery periods from surgery and cancer treatments.
---

Aug. 22-23 there will be a quarter midget regional race event. Everyone is invited to come and watch an exciting day full of quarter midget racing. QMA members ages 5-16 will compete in the annual regional event. Qualifying and lower mains will be on Saturday and A mains on Sunday. Free admission. Concessions available. For additional information and directions, see www.alqma.com.
The ALQMA racetrack is in Broadwell (former Rocking Horse Campground). The event will start at 9 a.m.
---

Bring your dirty canine to the Humane Society of Logan County dog wash on Saturday, Aug. 22, at Graue Inc. You will have the cleanest, fresh-smelling dog possible.
The Lincoln Art & Balloon Festival is fast approaching. HSLC will have the "Hounds & Handbags" sale across from Latham Park and a space in Scully Park. If you are interested in volunteering at one of these venues, please call Lynn White at 217-732-4540. We are very fortunate this year to be able to have a presence in two separate areas of the balloon fest.
---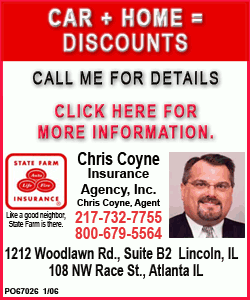 Remember that the LDN has the complete art and balloon fest information in our Lincoln Art & Balloon Festival section. So if you are wondering what is going on, when or where, just check out the page and find everything you need to know. This complete coverage is brought to you thanks to the great sponsors whose names are included on the page.
---
Got a good piece of news, information or something that we can all brag about? If you do, e-mail Mike and let us tell everyone about it. Plus you can win cash. Every submission, whether we use it or not, will get your name in the "Close Up" grab bag. At the end of the month we will draw a name and someone will get $25 just for dropping us an e-mail. If you wish, we will be happy to donate your winnings to the organization of your choice.
You can contact Mike at mikefak@lincolndailynews.com.
[By MIKE FAK]