Now experts are trying to determine how the babies died and whether they were related to Katie L. Stockton, 28, of Rockton, who was arrested earlier this month in the death of the newborn girl nearly five years ago.
It was only after Stockton's arrest that investigators discovered her 1993 blue Saturn had been sitting in an impound lot for the past year. So they towed it to a Winnebago County Sheriff's Department facility to search for more clues -- maybe blood, hair or fibers. Last week, they found the remains.
On Tuesday, a forensic pathologist and an anthropologist will conduct autopsies, the first step to unraveling the mystery, said Sheriff Richard Meyers.
"I've been around long enough, nothing is really surprising anymore," Meyers said. "But to find two little babies like that and possibly know that they laid in that car all year long ... it's shameful."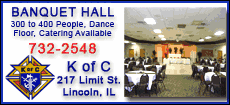 Assistant Public Defenders Susan Kalbantner and David Doll were assigned Monday to Stockton's case, and the Public Defender's said it would have no comment. A phone number listed for Stockton's mother was disconnected. A phone number could not be found for her father.
Police originally questioned Stockton, then 24, in December 2004 after a newborn girl in a plastic bag was discovered frozen along a dead-end road near the home of Stockton's parents. But Stockton, who was not living at home at the time, denied the child was hers and nobody knew whether she'd been pregnant, Meyers said.
Area residents named the infant Baby Crystal and organized her funeral.
Meyers said his department always considered Stockton a person of interest.
"But you don't hook onto any particular area when you don't know," he said. "We've gone in a whole lot of different directions."
Investigators in recent months developed enough evidence to charge Stockton in the death of Baby Crystal, Meyers said. He declined to provide details other than to say police have evidence Stockton is the girl's mother, despite having no reports of her being pregnant before or after giving birth to one son, who is now 9 years old.