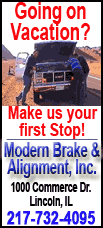 Bank of America was the sole bidder Monday for the Wilmette estate that once belonged to political fixer Tony Rezko. The bank had foreclosed $5.9 million on the property in May, with Rezko still owing more than $5 million.
The minimum bid of $2.8 million was set shortly before the auction. The next step is for a court to confirm the sale, said attorney Fred Lappe of Intercounty Judicial Sales Corp., which conducted the auction.
The bank then could make any current tenants leave, and the home could be put up for sale after that, he said.
"This isn't typical, though," Lappe said. "They could make some arrangements with Mr. Rezko or his wife or anyone else."
Rezko is in custody awaiting sentencing after his conviction last year for squeezing campaign contributions for Blagojevich from companies seeking state business.
Rezko frequently held fundraisers at the two-story, 8,400-square-foot estate. He held one in 2003 for a young candidate named Barack Obama, who was then seeking a U.S. Senate seat.
Blagojevich's name came up often at Rezko's trial, but Obama's name was raised infrequently. Blagojevich faces federal charges that he plotted to trade or sell President Obama's former Senate seat and other offenses.
He was removed from office in January.