The storm system that came out of the southwest late yesterday afternoon spawned a tornado (the National Weather Service has not yet confirmed it was a tornado, but there were several eyewitnesses confirming that was what they saw) that first dropped down on the town of Williamsville in Sangamon County. There it caused extensive damage or destroyed an estimated 12 homes and two businesses, including the Casey's and the Christian church in the town.

The cloud then continued its trek northeast, bouncing and touching down a number of times as it crossed over southern and southeastern Logan County from rural Williamsville to Beason.

While its fairly direct course northeastward from Williamsville averted more populated towns and villages, it still had significant impact everywhere it did touch down, and many lives were narrowly spared.

As of this morning, Terry Storer from Logan County Emergency Management Agency said that it was believed that more than 20 homes and various outbuildings had been affected. Four homes were destroyed, a number of others were significantly damaged or uninhabitable, some structures had lesser damage, and an unknown number of outbuildings were damaged or destroyed.

There was also scattered crop damage and some missing livestock.

There were some injuries, but no loss of human life. One pet was reported killed and some livestock went missing.

EMA director Dan Fulscher was in the field continuing damage assessments this morning.

AmerenCILCO has reported that power in the hardest hit area, between Williamsville and Mount Pulaski, could be restored by tomorrow.

A warning was issued to be cautious around downed power lines. Particularly where there is a long line, 10 to 12 poles down, there is a chance of residual electricity carrying a deadly charge.

True to the stories that typically follow this devastating force of nature, there were many the perplexing oddities found in the damage. Like the home where the only thing left untouched was the free-standing metal shelving unit in the basement, where not one jar of home-canned pickles or tomatoes was harmed. A brick lay on top beside several jars, and bricks were strewn all around. Everything else was gone.

At another large two-story home, the entire east side was opened up, looking like a cutaway dollhouse with contents scrambled and piled inside, paint removed, and siding battered on the outside.

Numerous roofs were peeled away in part or entirely, and at least one caved in.

Last evening Mark Hinds was busy doing what he could to help the Elias family. Hinds had been working several hours earlier with Joe Elias. They'd just returned to the country location a few miles northeast of Williamsville. In town they'd made some electrical supply purchases for a project, and they were standing in a Quonset looking over the bills. The Quonset was about 70 feet east of the house. Hinds decided to look out the door, and when he did, looking to his right, he saw a rotating cloud coming right at them. It was right there between the trees and the house, he said.

He said there was no time to do anything. The doors blew in as he was turning away, and the last thing that he remembers is that he and Elias both dove for the floor at the same time. He doesn't know what happened next; he only knows that he ended up lying in the field about 30 feet to the northeast.

He and Elias had been in the Quonset. There had been a shed next to it, to the east, that had a truck in it. The truck was moved over about five feet farther to the east. There was no Quonset. There was no shed.

Elias came out from under the truck about 20 to 30 feet southeast of where he had been standing. The west side of the truck, the direction where he had been standing, was a wall of debris packed against the truck from the ground up.

When he crawled out, he was beat-up-looking and covered in blood. Hinds said it scared him -- he didn't know where Elias was bleeding from, there was so much of it.

Elias was taken to a Springfield hospital and received 17 staples for a laceration to his head.

The trees next to the home are still there, but 20 feet to the north, the house is completely gone down to the foundation. Some of it was deposited in a large rubble heap to the east, some of it strewn over the acreage to the northeast, and some of it is who knows where.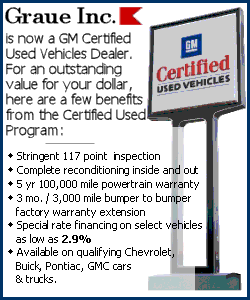 Fortunately, when the twister struck there were no other family members at home. His wife, Kelly, and two daughters, Marlea, 15, and Holly, 14, were in Lincoln. Son Jared, 20, was not home either.
The family has lost all of their possessions. Their dachshund, Lola, was in the house and did not survive, but their outdoor dog was found running around safe.
Up the road, 11-year-old Justice Caswell was sitting with his dog Beahr watching TV. He said he could hear the rain, and then there was huge wind and rain smacking the window. He said he knew it was probably a tornado when he saw the swing set go flying by the window.
He said, "I started praying, and right when I said 'Amen' it quit right then." He said he thought to himself, "Whoa, there is a Jesus up there." It made him feel good to know that.
Young Caswell was uttering profound thoughts more fitting of someone with more life experience. He said he was appreciative for this day, as he and his aunt helped their neighbors pull what few items they could from a rubble pile. He was glad to be alive. You never know what's going to happen, so you've got to be glad for today, he said. He shrugged and chuckled, saying that all he lost of any value in the house was his Xbox. With awe he said that wasn't much for what could have happened.
Caswell thought it remarkable that a truck right up by the west side of the house was untouched. But the house had been picked up and moved three feet. It was off its foundation and deemed not safe for re-entering.
The house across the street did not have much in noticeable damage. But the windows had all been blown out.
A few miles farther to the northeast more lives were narrowly spared. John Olson and about eight other people were looking over the remains of a new grain bin that was being put up. Debris was strewn through the fields as far as the eye could see, but not much was left on-site. Olson had warned workers about the coming storm an hour earlier when he left. When they saw it coming they dropped everything and left. Just minutes later it struck.
Olsen gestured across the street, saying, "That's a new machine shed." The old one was taken out by a storm that came through last year.
Scattered trees and poles have been topped out, broken off and blown over.
There were also a number of propane and gas lines that were ruptured.
As dusk began settling in, a helicopter overflew the area, examining for infrastructure damage.
Just after dark, fire broke out at one of the damaged residences near Williamsville.
As calls began to subside after the storm, all available Logan County emergency personnel began touring southern Logan County to check for damage and possible injuries. Where structural damage was found, responders investigated to account for occupants and systematically checked for possible gas leaks, power lines down and other hazards.
Farther southwest in the Sangamon County, the small community of Laomi was also struck by a suspected tornado, leaving an estimated 10 homes destroyed and 12 damaged. No serious injuries were reported.
Temporary shelter was set up in Williamsville for the area's displaced families.
Many families have lost not only their home, but also all their belongings. Today and the coming days are sure to be a little tougher as the shock wears off and awareness sets in of all the loss -- personal belongings, family treasures and mementoes. School starts next week, and at the close of Wednesday the kids (and the adults) had nothing more than the clothes on their backs.
Lincoln Daily News will bring you more information as it becomes available and how you can help.
Damage should be reported to the Logan County Emergency Management Agency by calling 217-732-9491. If you have an emergency, call 911.
[By JAN YOUNGQUIST]