Lincoln Christian University and the Issachar Institute will welcome C. Christopher Hook, M.D. to its campus on Thursday, Sept. 3, for a one-day seminar on "The Challenge of Biotechnology."

Dr. Hook is an assistant professor of medicine at Mayo Clinic College of Medicine in Rochester, Minn., and is internationally recognized as an expert in biotechnology and bioethics. He will lead a series of lectures and discussions on key bioethical issues. These sessions are beneficial for health care professionals, pastors and other clergy, college and seminary students, as well as those interested in the field of medical technology. He will address topics such as nanotechnology, neurotechnology, stem cell research, reproductive technologies and human re-engineering or "transhumanism."

The seminar will be from 10 a.m. to 5 p.m. in Restoration Hall, Room R-49, on the LCU campus at 100 Campus View Drive. The cost is $5 per person and includes materials. For more information about the seminar, please contact Dr. Robert Kurka at rkurka@lincolnchristian.edu or 217-732-3168, ext. 2248.
---
The regular pool season at the Lincoln Park District will end on Labor Day, Sept. 7. Although hours of operation will be reduced in coming weeks, due to lack of lifeguards, we will be available for lap swims and 6-and-under swims during the week as well. Family swim nights should not be affected. There will be regular hours on weekends.
As cooler weather approaches, continue your fitness at Lincoln Park District's Indoor Sports Center. We have something for everyone, from seniors to young adults. Use our specialized equipment, cardio-theater, group fitness classes or court space. A personal trainer is on staff to get you started and keep you motivated. Visit us at www.lincolnparkdistrict.com or call 732-8770 to ask about our money-saving membership offers. Life begins with fitness at the Lincoln Park District Sports Center.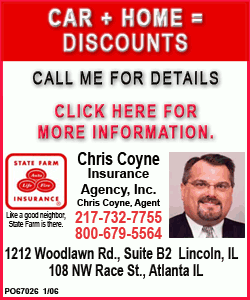 Balloon Fest quiz
Well, the answers to our quiz are coming in hot and heavy, and it sure is a tough one to figure out. So far we have had a few who got at least 10 out of 12 right, but that means the odds are really good that if you submit a correct entry, you could win two tickets and shirts for next weekend's balloon fest at the Logan County Airport. But don't delay. You only have until Tuesday at 5 p.m. to get those answers in the hopper.
---
Got a good piece of news, information or something that we can all brag about? If you do, e-mail Mike and let us tell everyone about it. Plus you can win cash. Every submission, whether we use it or not, will get your name in the "Close Up" grab bag. At the end of the month we will draw a name and someone will get $25 just for dropping us an e-mail. If you wish, we will be happy to donate your winnings to the organization of your choice.
You can contact Mike at mikefak@lincolndailynews.com.
[By MIKE FAK]