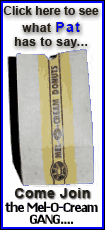 There will be the usual sliding scale for convenience fee charges as before. The Visa debit card can be used in the treasurer's office, although the staff will have to enter the payment as the debit card scanner is still not available, but we are told this will be corrected soon.
The Visa debit card will have a $3.95 convenience fee if used. Other debit cards -- MasterCard, Discover -- will not have a convenience fee. If you have any questions about this, you may call 217-732-3761.
The Dr. John Logan Building will be open Saturday, Aug. 29, for payment of real estate taxes from 8:30 a.m. to noon. The drive-up window will be open and you may go inside to pay.
A penalty of 3 percent will be charged on any unpaid first installment of taxes and a 1.5 percent penalty on any unpaid second installment of taxes on Sept. 2. The Logan County Courthouse will not be open for tax payments on Saturday, Aug. 29.
Publication of any unpaid real estate taxes will be Oct. 9, and the annual Logan County tax sale will be Oct. 27 at 2 p.m. in the first-floor courtroom. If you have any questions, you may call the treasurer's office at 217-732-3761.
[Text from file received from Mary Bruns, Logan County treasurer]