Lincoln Christian University, quilters, blood drives, Lincoln Church of God and plenty to do at the Lincoln Park District make Close Up
By Mike Fak
[August 25, 2009] The public is invited to celebrate with the newly named Lincoln Christian University community at a special LCU convocation service on Sept. 1 at 9:30 a.m. in the Earl C Hargrove Chapel auditorium in Lincoln. The featured speaker will be Dr. Paul Corts, president of the Council for Christian Colleges and Universities and an LCU alumnus. President Keith Ray, Ph.D., will reveal the university's new logo and communications strategy at this first official event of the school's 65th anniversary year.
---

The Quilters at Heart Quilt Guild will meet at 7 p.m. on Thursday, Aug. 27, at Trinity Episcopal Church, 402 Pekin St. Members are asked to bring their small quilts to donate to the Pregnancy Resource Center. The speaker will be Linda Nelson from the Pregnancy Resource Center.
Guest quilt shop: Peace & Applique from Rochester will give their talk about kitchens -- aprons, table toppers, etc. and the Moda Bake Shop. They will talk about all of the things you can do with precuts. The guild will discuss railsplitters and working crafts. For additional information, please contact Stacie Wachtel 217-732-7029.
---

Blood drives for Logan County are as follows:
Monday, Aug. 31, from noon to 6 p.m. at Lincoln Masonic Center; sponsored by Lincoln Rotary
Thursday, Sept. 3, from 3 to 6 p.m. at Elkhart Christian Church
Friday, Sept. 11, from 7:30 a.m. to 2:30 p.m. at Lincoln Community High School
Friday, Sept. 18, from noon to 3 p.m. at Logan Correctional Center (employees only)
---

The Lincoln Church of God will have a fundraiser on Saturday, Aug. 29, from 10 a.m. to 3 p.m. in the parking lot of the former Courier building, 601 Pulaski St. in downtown Lincoln. All proceeds from the fundraiser will be used to benefit the remodeling of the building. There will be free inflatables and balloons. Also, popcorn, cotton candy, snow cones and bottled water will be available for purchase.
If you have any questions, contact the church at 217-732-8989.
---

Welcome back, Doug Dean, PGA certified instructor. Doug will offer a golf clinic beginning Aug. 31 through Sept. 4 at the Lincoln Park District driving range. The clinic will offer two hours of evening lessons (6-8 p.m.) daily with a PGA professional. All parts of the game are covered, including the full swing, short game and trouble shots. Working with your own personal swing coach is a great way to make significant improvements in your game. If there are certain areas of the game that you wish to focus on, Doug will tailor your lessons according to your needs. Call 732-8770 to register now!
---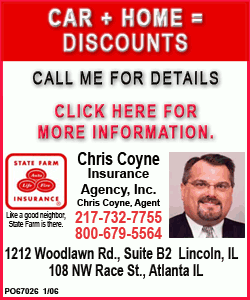 A creative writing class is being offered again. Mike Fak partners with Lincoln Park District to share his wealth of writing and published experiences. Mike will teach you how to improve your writing skills for short stories, memoirs or any other type of creative writing you want to learn about. The class will meet on Tuesday evenings from 7 to 8:30 p.m. at the park district. The class is scheduled for four weeks, beginning Sept. 22. People over 60 will receive a discount. Watch this column for more information as time gets closer. Preregistration is strongly encouraged, as there are already six in the class and until this minute it was a secret. Well, its not really been a secret, but the class will be limited in size to make sure everyone can be involved and have fun. So call the park district at 732-8770 and register today.
---

Co-ed rec volleyball will start team sign-ups Tuesday, Sept. 1. Roster and league information will be available at the front desk. Prices and league structure will remain unchanged from previous years. Get a group of friends or co-workers together, have a great time, and get a workout in as well.
---
Got a good piece of news, information or something that we can all brag about? If you do, e-mail Mike and let us tell everyone about it. Plus you can win cash. Every submission, whether we use it or not, will get your name in the "Close Up" grab bag. At the end of the month we will draw a name and someone will get $25 just for dropping us an e-mail. If you wish, we will be happy to donate your winnings to the organization of your choice.
You can contact Mike at mikefak@lincolndailynews.com.
[By MIKE FAK]