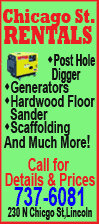 In the week since the storm struck, the depth of damage and destruction has been discovered to be much greater than first thought. Thirty-five farmsteads were affected, with many structures gone. Officials agree that due to amount of debris that spread out over an extensive area, the cleanup and recovery will take considerable time.

The Logan County Emergency Management Agency with the assistance of state assets and federal aid continues with the general countywide cleanup and restoration.

The response to victim needs shifted from immediate emergency aid to temporary and is now entering transitional recovery. Many families have experienced significant personal losses. Most of the victims were insured, but insurance settlements will not cover the full costs.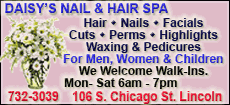 The community is being asked to help meet important needs and transitional costs for these families by donating financially, with goods or by volunteering their time.
In this phase of the tornado disaster recovery, the Lincoln Salvation Army has been designated as the lead agency to coordinate efforts that assist families affected by the storm. Salvation Army disaster relief caseworker Rebecca Van Nydeggen will be coming alongside each family to fill in the blanks and to facilitate next steps in new permanent housing and utility assistance.
In addition, the Salvation Army will assist with health and safety supplies, such as prescription medications, food and clothing, as well as household content replacement and food pantry support.
Van Nydeggen spent considerable time in the field connecting with the tornado victim families in the first days following the tornado. She will continue providing assistance by meeting with the families one-on-one at the Salvation Army office at 307 N. Kickapoo St. in Lincoln.
The families will be provided vouchers supplied by area retailers and Lincoln resale shops for food, household items, clothing and furniture replacement.
Families needing assistance for tornado recovery may contact Van Nydeggen at 217-732-7890 to obtain vouchers and to address other recovery needs.
Donation information:
All donations made to the Salvation Army for tornado disaster relief will be used to help Logan County tornado victims directly.

Donations made through the Salvation Army are tax-deductible.

A Salvation Army Logan County Disaster Assistance Fund has been set up.

To mail a check, make it payable to Salvation Army Logan County Disaster and send to The Salvation Army, PO Box 52, Lincoln, IL 62656.

Disaster donations are kept completely separate from the Salvation Army's general fund that assists Logan County residents throughout the calendar year.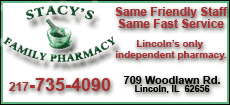 The Salvation Army office is also accepting donations of food pantry supplies and financial donations, which can be designated for food pantry use or for disaster relief in Logan County.

All donations may be made in person at the Keest Center, 307 N. Kickapoo St., between 11 a.m. and 2 p.m. weekdays.

Tornado victims who have questions, need additional assistance or who haven't been reached yet may contact the Salvation Army office at 217-732-7890.

Volunteers and anyone needing more information about donating can also call 217-732-7890.
Financial contributions may also be made directly to individuals who have set up accounts at their banks. These donations are not accounted through the Logan County Emergency Management Agency or the Salvation Army and do not qualify for a tax deduction.
The following families are set up:
Ed and Cindy Mayfield -- State Bank of Lincoln

Joe and Kelly Elias -- State Bank of Lincoln

For Bill and Margaret Lahr, the account is under their daughter's name, Judith Hughes -- Illini Bank, Lincoln

Andy and Joan Dahmm -- State Bank of Lincoln
Call list
Donate money or goods for victims:
Salvation Army at 217-732-7890

Family and individual assistance in recovery from tornado losses:
Salvation Army at 217-732-7890
If help is needed cleaning up, or those wishing to help in the cleanup can contact the Logan County Emergency Management Agency office during business hours at 217-732-9491.
--End of Aug. 28 update
___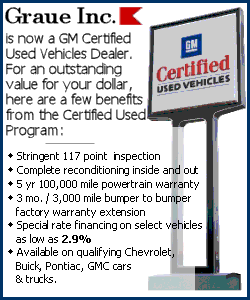 A review of the Aug. 19 tornado
Damage assessment by Logan County Emergency Management Agency estimated at $4.8 million.
The twister reached over a half-mile wide at places on the ground and was witnessed to have an estimated 9-mile wide circulation in the sky. It was on the ground over 20 miles in Logan County.
Over its course there was extensive damage to numerous farmsteads, utilities and the countryside as it traveled from the southwest to the northeast the full width of southern Logan County.
Multiple homes had roofs and walls gone. Outbuildings were blown over a mile away and grain bins blown away.
The tornado damaged farm outbuildings, machine sheds, homes, garages and vehicles.
It produced widespread tree damage and flattened many cornfields.
Utility properties supplying electricity, gas, propane, telephone, cable and Internet were damaged or destroyed, temporarily interrupting services to the immediate area.
The Red Cross provided immediate temporary shelter and fed those who could not go back to their homes.
Law enforcement provided security at darkened farmsteads.
Multiple organizations and agencies provided relief and cleanup assistance to victims and workers in the field.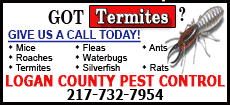 ___
Official report from the National Weather Service
Tornado 3: Sangamon and Logan counties
Maximum intensity: EF3 (140 mph)
Path length: 24.5 miles
Maximum width: 1/2 mile
This tornado touched down on the west side of Williamsville, just east of Interstate 55, at 3:18 p.m. Aug. 19. It destroyed an antique mall, damaged the Casey's and collapsed the canopy over the gas pumps. One person was injured at the mall, while two motorcyclists were injured when they were thrown from their bikes.
The tornado moved northeast through Williamsville and hit a church, throwing a two-horse trailer onto the roof and collapsing the roof over half of the building. One person inside the church was injured.
The tornado then continued through the northern portion of town, doing damage to trees and some houses. Two homes lost their roofs and several others lost portions of their roofs. The tornado also caved in the southern end of a metal building, part of an agricultural business on the edge of town.
The width of the tornado through town ranged from 100 to 150 yards. The maximum wind speed of 135 mph (EF2) in Williamsville was determined from the damage to the church.
Continuing east-northeast, the tornado flattened cornfields, damaged farm outbuildings and machine sheds, and damaged homes, garages and vehicles on Lester Road. One home was completely destroyed and another had extensive damage as the tornado widened to 600 yards at this point. A 19-month-old baby was injured as the family home was hit by the tornado. Maximum wind speed at this point was estimated at 140 mph (EF3).
The tornado continued through fields, causing extensive crop damage, until crossing into Logan County around 3:26 p.m. Path length through Sangamon County was 4.5 miles.
In Logan County, the tornado continued to move northeast and widened to close to one-half mile at several places. Multiple homes had roofs and walls gone, outbuildings blown over a mile away, and grain bins blown away. The tornado continued to produce widespread tree damage and flattened many cornfields. In some places, the corn was lying in different directions, indicating the strength of the winds as it moved past. At some places, the tornado did weaken, which coincides with the rotation weakening on radar, but remained on the ground.
Two injuries occurred in Logan County, when two men were thrown from a maintenance building as the tornado hit.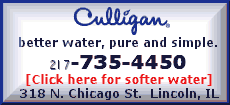 Wind speeds were estimated at 140 mph as the tornado crossed from Sangamon County, decreasing to 110 to 120 mph as it moved to areas between Lincoln and Mount Pulaski. The tornado continued northeast before weakening to speeds of 90 to 100 mph, with a width of 50 to 100 yards.
The tornado finally dissipated just east of Beason at 4:02 p.m. The path length in Logan County was 20 miles.
--End NWS report
___
NWS information:
National Weather Service map identifies central Illinois areas affected by severe weather Aug. 19:
http://www.crh.noaa.gov/images/ilx/
events/19aug09/lsr0819.png
Severe weather outbreak radar and report details from Aug. 19:
http://www.crh.noaa.gov/ilx/?n=19aug09
[Text from file received from Logan County Emergency Management Agency]