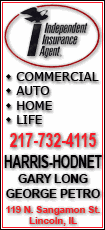 Elkhart's business district is only one city block long, but every building is occupied, most of them with quaint retail establishments that offer a treasure trove of items suitable for gifting.

Horsefeathers and Dragonfly Art Studio

As you come into town from Route 66, on the south side of the street is a unique little shop called Horsefeathers. Owned and operated by Andrea Niehaus, this store is jampacked with interesting and unique items.

Niehaus says that in her shop she offers a mix of gently used vintage items as well as new merchandise, much of which is handcrafted by local crafters.

The rustic handmade soaps touting the Horsefeathers name will catch your eye the second you walk in the door.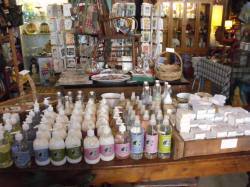 The store's offerings also include handmade purses, a unique collection of brooches crafted from vintage jewelry and buttons, vintage glass and pottery, and a variety of food items, just to name a few great choices for gift giving.
Niehaus notes that many of the food items she sells, such as jams, jellies, butters and noodles, are Amish-made.
In addition to all this, Neihaus also features some selected pieces of original art from the Dragonfly Art Studio.
The Dragonfly is owned and operated by Neihaus' sister Renee Sisk and is located upstairs in the building next door.
Sisk offers some beautiful original paintings with a wide variety of settings.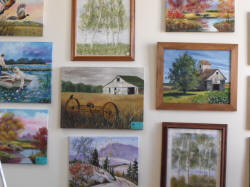 If you want to take a look at everything that is available at the Dragonfly, it might be a good idea to call ahead, as Sisk conducts art classes upstairs and also helps in the Wild Hare Café during the busy times.
But making an appointment is well worth the effort when you see the lovely paintings on display in the gallery. The number to call is 217-947-2100.
Birdsong
When you leave Horsefeathers, cross the street and walk to the far end of the block to experience Birdsong.
Birdsong is owned by Jean Tweet and offers a wide variety of vintage items from the 1940s and '50s.
Tweet said she has rotated her stock into Christmas items and is offering some very special collectible items.
If you have a vintage collector or a Santa collector on your list, some of the offerings at Birdsong include a circa 1950 Santa nog set or a Santa chocolate set.
In addition, Tweet has a large collection of vintage hostess aprons, most of which are Christmas-themed. From heavy felt silk-screened designs to flocked Santas on lace, all are in good condition and very reasonably priced.
And last but not least, Birdsong offers a large variety of used books, some of them hard-to-find first editions, all in very good condition and perfect for gifting to any collector.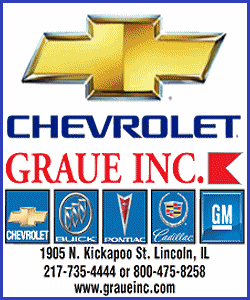 The Copper Rooster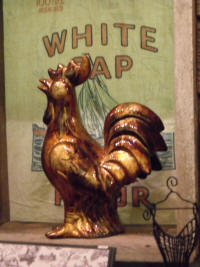 Leaving Birdsong, turn right and head down to the Bluestem Bakery. Go in their front door and make a right into the Copper Rooster.
Technically, this little shop isn't open yet. According to Steven Cosby, a member of the family-operated business, the shop will officially open in January, but for now, there are still plenty of items to choose from.
Cosby said the idea of the shop came from his niece Mandy who makes and sells lovely handcrafted jewelry from "found items."
Also involved in the business are Mandy's parents, Bill and Kathy Cosby, who offer vintage radios and record players, all in wonderful condition, and Steven's offering consists of vintage glass and other such items.
At the moment the shop is quite small, but Cosby said that by the time of their grand opening there will be an adjoining room opened up for a workshop.
In addition, while the shop isn't really open yet, Cosby said there will be someone manning the store this weekend.
The Ramblin Elk Music Sanctuary
Again, leave the Bluestem and turn right and wander on down to the Ramblin Elk Music Sanctuary.
More than likely the first "person" to greet you in the store will be Chili, a long-haired tabby that keeps an eye on things downstairs.
In the downstairs area, you'll find a little shop of antiques and vintage collectibles, all in excellent condition and suitable for gifting.
Upstairs is the music studio. According to one of the owners, Shannon O'Laughlin, she, her husband and their partner offer guitar and trumpet lessons, plus they sell instruments in the upstairs area.
So if you have a would-be musician on your shopping list, the Ramblin Elk can fix you up with a nice guitar and lessons to go along with it.
While Elkhart may be a small community, its downtown area is packed full of shopping opportunities. Please be sure to take a little bit of time, stop in the shops, visit with the very friendly owners, and see just what all they have to offer this holiday season.
___
This is the first article in a "Christmas Shopping" series.
Shop Logan County. It helps everyone.
[By NILA SMITH]