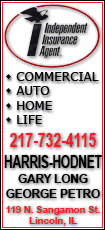 He called on Lincoln Chief of Police Stuart Erlenbush to make the first presentation.

Cpl. Oltmanns receives commendation

Erlenbush said that he was offering a commendation to Cpl. Dave Oltmanns. He explained that the recognition was for an event that occurred in January of this year but that busy circumstances in the police department had prevented this award from being given earlier.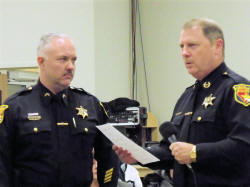 Erlenbush read the following prepared statement:
(Copy)
This is to Corporal Dave Oltmanns, an accommodation dated December 15th, 2009.
On January 31st 2009 you were involved in an investigation regarding a female juvenile disappearance from her residence.
You worked diligently obtaining information that led to the identification of those individuals from the state of Ohio who had secretly traveled to Lincoln and picked up the female near her residence.
Those individuals had been told be the females parents that the daughter could not go with them to Ohio.
You were able to make direct contact with the suspect and convince him to stop and turn himself in along with the juvenile at the Indiana Ohio border.
The subsequent investigation involved the Indiana State Police, the FBI, Logan County States Attorney, and the Lincoln Police Department.
Your efforts resulted in the arrest of the suspect who was returned to Logan County where he was charged with child abduction. The suspect subsequently pled guilty to child abduction, was subject to 6 months in jail, and is now a registered sex offender in the state of Illinois.
I hereby commend you for your initiative and immediate action that led to the recovery of the victim. Your prompt action and your ability to convince the suspect to turn himself into police were instrumental in the recovery of the victim and the prosecution of the offender.
Your actions reflect highly on the dedicated service of all police officers, the Lincoln Police Department, and the City of Lincoln.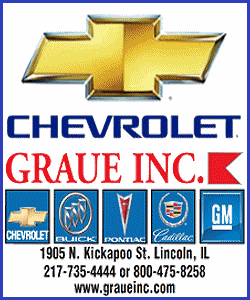 City recognizes Jim Kirk for years of service
Tracy Jackson, city streets and alleys superintendent, introduced Jim Kirk to the audience. Kirk will be retiring from the city street department at the end of December after 44 years, eight months and 22 days with the city.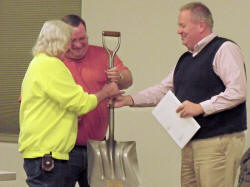 Snyder presented to Kirk his last shovel. He read the inscription on the shovel:
To James A Kirk, Lincoln Streets and Alley's department, May 11th 1965 to December 31st 2009.
In addition the mayor read a resolution from the Illinois House of Representatives, submitted by Rep. Rich Brauer.
Snyder read:
The 96th General Assembly of the House of Representatives acknowledges Jim Kirk in recognition of 44 years with the city of Lincoln Street Department and calls for commemoration of a successful career and further extends its best wishes for long years of happiness and a well earned retirement. Offered by Representative Rich Brauer; signed by Michael Madigan, the Speaker of the House.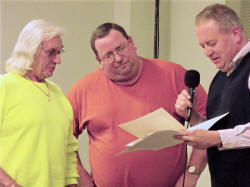 In addition to the resolution, Brauer included a laminated copy of a news article about Kirk and a photo of Kirk with his city truck.
[By NILA SMITH]