Logan County is far away from any great bodies of water, but we have our own "Logan County Clipper" of a different sort: Loren Holmes. Loren, who has owned and barbered at his barbershop at 116 S. Chicago for 52 years, deserves the nickname, if anyone does.

Loren became a barber at the shop along with Don Southern on April 17, 1957. Southern passed away a few years back, but Loren has kept the customers coming in and out even while he ran the shop by himself.

But now after a half-century of looking at friends' heads, he feels it has been long enough, and he will retire as a barber this Christmas Eve.

When asked how many haircuts he thinks he has given in over a half-century, he laughed and said he wouldn't even know where to start to figure out that number.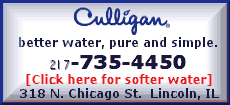 He is a busy barber and says on a slower day he probably cuts 20 heads of patrons' hair. On a busy day he gives as many as 40 haircuts.
Taking the lesser number, allowing for his partner cutting hair and multiplying by 52 years, there is the possibility that Loren has clipped as many as 100,000 customers' hair if not more. With all due respect to "Joltin'" Joe DiMaggio, it looks like if anyone deserves the title of "clipper," it is Loren Holmes.
The barbershop on Chicago Street still has the look and feel of an old-time barber shop from the '50s. An old clock, old signs and a few old-time barber chairs give the customers a comforting feeling like an old hat or old pair of shoes when they visit for their haircuts. The shop is as it was decades ago, and so is Loren with his generous smile and good humor.
On the day of our visit, several customers who came in to be "clipped" were asked how many years they had been coming to Loren. They all said they weren't sure, but it has been decades rather than years.
Holmes said he has many old customers going back to the beginning. Sadly, many have passed away. But he says in many cases he has the sons and grandsons and a few great-grandsons who patronize his business to carry on the tradition of a family getting their hair cut at 116 S. Chicago St.
When asked if this was the original location of his shop or had he moved, he said he once moved.
"The front of the store was getting redone, and I had to move everything back three feet," he said.
Besides patrons, the shop also boasts a healthy number of visitors. Like an old-time barber shop, the room is often filled with banter and storytelling from the moment the business opens until Loren locks the door for the night.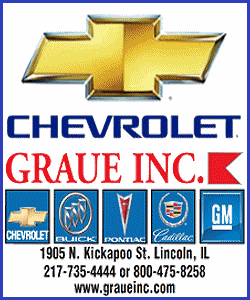 With his quick wit, he did say that although the conversation at the barber shop is still lively, "there are fewer stories than there were years ago. Most of us can't remember a lot of them anymore."
Holmes says the names of the people talked about have changed over the years, but the gist of the discussions "is pretty much the same."
When asked what the biggest changes he has seen in over a half-century were, Loren named them off quickly. "The equipment has changed over the years and so have the hairstyles. In the old days a lot of men put stuff on their hair. I probably used 20 tons of Brylcreem over the years." Holmes said he also used a lot of Rose Hair Oil in the early days, but both are a thing of the past.
"My customers now come in with nothing on their hair, and that's the way they leave."
Loren recalls that when he began, a haircut was a dollar, so that has changed, but not by much compared with inflation. Now, a haircut at his shop is $10.
Holmes doesn't feel any pangs of regret over his decision. He says he and his wife, Nancy, want to do some things while they still have their health. He also admits he will stop by from time to time to chat with customers and to see how his replacement, Toby Franz, is doing.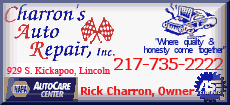 Franz, a 35-year-old Lincolnite, will be taking over the business, and Franz has been camped on a chair these past few weeks trying to get to know the multitude of customers Loren has and to assure them they can continue to come to the Chicago Street shop.
What Loren will remember of his decades as a "clipper": "I will remember the fun. It was a lot of fun."
Editor's note: A surprise until now, Nancy wants to invite everyone to stop by the shop this Christmas Eve, starting at 10 a.m., to wish Loren the best of luck in his retirement.
[By MIKE FAK]