A Kroger Christmas story, winter concert weekend, Global Tech grads, YMCA and Lincoln Park District in Close Up
By Mike Fak
[December 18, 2009] The other day a woman was in the checkout lane at Kroger buying her holiday foods. She found out after everything was rung up that she was short $35 on her Link card and began to decide what items to forget when a woman in line behind her told the cashier to put the $35 on her bill.
The generous woman told the other woman that she had been where she was now and to have a "Merry Christmas."

We hope both ladies have one and thank Kathy Horn at Kroger for sharing this story with all of us.
---
Reminder: The Lincoln Area Music Society Winter Concert is this weekend: Saturday, Dec. 19, and Sunday, Dec. 20.
The public is invited to this free concert featuring the chorale and orchestra. Both dates are at the Lincoln Community High School, 1000 Primm Road. The Saturday time is 7 p.m. The Sunday show is at 2 p.m.
---
Congratulations to these young men for completing their studies at Global Tech Training on Dec. 3. Another class will be starting on Jan. 4 to replace this graduating class.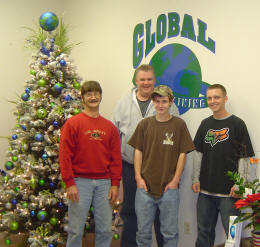 Left to right: Jim Frontz, Randy McCay, Eric Stender and Zach Crouse
---
The Lincoln Public Library has posted their holiday hours:
Dec. 24 -- Closing early at 1 pm

Dec. 25 and 26 -- Closed for Christmas holiday

Dec. 31 -- Closing early at 5 p.m.

Jan. 1 -- Closed for New Year's Day
---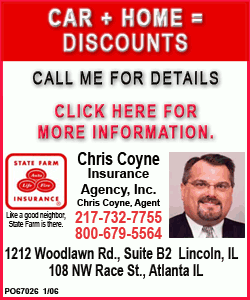 Got Georgia on your mind? The Georgia O'Keefe Art Day program is Dec. 30 at the YMCA. Georgia O'Keefe is one of the greatest female artists of the 20th century with her focus on flowers and the scenery around her. The registration deadline is Dec. 23. Participants from first to sixth grade need to hurry in and register for this awesome art day. Call 735-3915 or visit www.lincolnymca.org.
---
A full-access membership at the Lincoln Park District will be offered to college students home for the holidays. You must be a full-time student with a valid college ID. This membership comes with unlimited usage and includes all aerobic and spin classes. Passes are valid through Jan. 17. Cost will be $50 in district and $60 out of district.
---
Lincoln Park District also offers gift certificates. Certificates are available in any dollar amount and may be applied toward membership costs or any park district program or function.
---
Got a good piece of news, information or something that we can all brag about? If you do, e-mail Mike and let us tell everyone about it. Plus you can win cash. Every submission, whether we use it or not, will get your name in the Close Up grab bag. At the end of the month we will draw a name and someone will get $25 just for dropping us an e-mail. If you wish, we will be happy to donate your winnings to the organization of your choice.
You can contact Mike at mikefak@lincolndailynews.com.
[MIKE FAK]