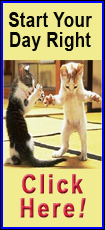 We live in the loudest society in the history of the world. We are inundated with noise. We hear it in our cars, our homes, our businesses. We shop with background music, we watch sports in stereo surround. Some of us even sleep with the soft purr of white noise lulling us away into the night. We lead loud lives. Much of the time this is not a problem until we want to hear something else, another sound that canít find its way through all the noise. In these moments we can feel like we are trying to have a conversation at a concert, straining to hear the words we so desperately want over the din of rock music and the lyrical whines of the singer. In short, the noise can drown out the most important things in our lives.
And this brings us to silence. For centuries it was simply understood that people of faith would experience silence. And in their silences, people of faith experienced great things. From monastics to peasants to kings, history is rich with stories of Godís voice penetrating the silence. And so it comes to us. If we want to know what God is really up to in our lives. If we want to understand where God wants us to go. If we hope to draw ourselves closer to God then we need to spend some time being quiet. We need to make room for the still, small voice of the Lord to enter our minds and thus shape our lives. Try it this week. Turn off the radio in the car. Turn off the TV after the kids go to bed. Turn down the radio while you work in the kitchen. Be quiet and listen. Hear, O people, the Lord is your God. To know it, you have to be able to hear it.
Prayer: God, help me to be silent, help me to listen for your voice in my world and in my life. I need your help. The noise has overcome me and I feel lost from you. I need silence and I need you. Amen.
[Text from file received by Phil Blackburn]