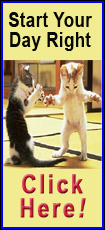 Obama also said in an interview aired Monday that some banks are going to have to write down bad debts, while other banks may fail.
Administration officials, the Federal Reserve and top banking officials are working on proposals for how the government will use the last $350 billion from the $700 billion rescue program with some lawmakers clamoring for greater oversight.
In an NBC interview taped Sunday and aired on NBC's "Today" show, Obama said he is ultimately accountable and "if I don't have this done in three years then there's gonna be a one-term proposition."