A lifelong resident of Atlanta, Martin has spent many years working for that community and Logan County as a whole, first as a city alderman, then as Atlanta's mayor, and now he serves on the Logan County Board and the Logan County Regional Planning Commission.

Martin was born just three miles south of Atlanta. He married his childhood sweetheart, Zelma Short. He says that they were about 14 or 15 when they first took an interest in each other and have been together ever since. They raised three children in the Atlanta area and are now reaping the benefits of being grandma and grandpa.

Now retired 14 years, he was an employee of Caterpillar in Decatur for 30 years. Six of those years he was a union facilitator, a role where he received special training in group dynamics, problem-solving and listening skills, among other things.

These are tools that he has brought with him into the offices he holds. Martin said that as the mayor of a small town, he found that aldermen often have good ideas but won't bring them to the foreground because they don't think that they would be making a significant contribution. Martin said that sometimes he's had to play a little "devil's advocate" and draw out the good ideas with bad ones. "I'd say, well, what if we do this, or what if we do that, and folks would finally speak up."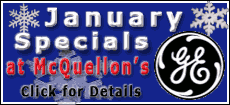 As the mayor of Atlanta, Martin worked a great deal on developing their tax increment financing district. However, he said that the project went by the wayside for a while, and now the city is working to revive it. Even though he is no longer mayor, he plans to do all that he can to assist the city in getting back on track with the TIF.
Martin resigned as mayor of Atlanta on Nov. 30 so that he could be sworn in to the Logan County Board, taking the District 1 seat on Dec. 1. On the county board he is serving on several committees, including planning and zoning, finance, road and bridge, and airport.
Currently he is chairman of the Logan County Regional Planning Commission, is heavily involved with the Lincoln & Logan County Development Partnership, has worked with the tourism bureau on projects in Atlanta, is dedicated to the organization and future opening of the Palms Café and Museum in Atlanta, and is the chairman of the board for the Christian Child Care Center in Lincoln.
Joel Smiley, executive director of the development partnership, recently stated: "Bill Martin has been essential to the building and development of the Comprehensive Development Plan. Bill is truly an original thinker, and his efforts were crucial to the economic development experience in Logan County."
Martin says that working with the partnership has been a good experience. He feels that the experience and knowledge that can be gained by being a part of the Economic Development Council for Central Illinois is also invaluable. This is an alliance that Logan County recently made when developing a Comprehensive Economic Development Strategy through the area development council, uniting five counties as a region. Martin did most of the legwork on this project, traveling often to Peoria.
He admires what Peoria has done with their city and says that there are lessons to be learned there. When that city lost large portions of its industry, the powers that be sat back and took a good look at the positives that were still there, and they worked on building a new plan based on those positives.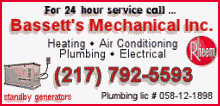 He says that our county needs to do the same thing: build on the good that is already here. He cites the central location of the county, the interstates and proximity to larger cities as positives.
One of Martin's goals for Lincoln is to see development on the north part of town. He feels this is crucial, and while it won't happen any time soon, he plans to keep on it.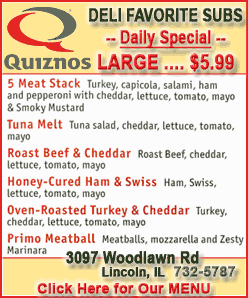 Martin says that now that he is no longer the mayor, he's going to have more free time, and he intends to work a lot with the Palms Café and Museum that will open in Atlanta, hopefully by the fall of this year. He's very enthusiastic about the museum. He says there is a lot going to go on there, and he feels like it is going to be a huge attraction, not only for Atlanta, but for all of Logan County.
Martin's been a strong believer in Logan County as a great tourist destination, especially with the revival of Route 66, which stretches from one end of Logan County to the other, and the presence of numerous Abraham Lincoln sites along that route.
Geoff Ladd, executive director of the Abraham Lincoln Tourism Bureau of Logan County, said: "I have worked with Bill Martin on several projects over the last few years and have found him to be a progressive thinker and someone who gets things done. I look forward to his participation on a countywide level now that he is on the county board."
When Christian Child Care in Lincoln announced that its program was in deep financial trouble, Martin was working there as a janitor part time. He said that the board of directors called a meeting and he attended. "I had a few questions, but I really wasn't satisfied with their answers," he said.
At that meeting he met Nancy Cunningham of the Child Care Connection in Springfield. They spoke for quite a while, and when it was all said and done, he agreed to join a new board of directors, and she agreed to offer input on getting the child care program back up and running.
Martin said that at the time, Coleen Moore was working in the classroom, but she had done some of the office work previously. He and others started nudging her back into the office. She kept insisting that she didn't have any business expertise, but the board recognized something in her and kept nudging. In the end, she was made the facility director, and with a strong board behind her, things started turning around.
Martin said there were difficult decisions that had to be made regarding staff reduction and cost-cutting, but they stayed on it, and while they still have struggles ahead of them, the organization has managed to pay down a large percentage of its debt, and he feels that the future of the program is bright.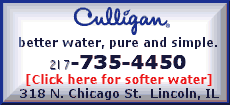 Moore credits Martin for keeping them on track and staying positive even in the darkest of days for the program.
"Mr. Bill is a remarkable part of the Christian Child Care family," she said. "When Christian Child Care was seeing its grayest days, he saw only blue skies in our future.
"When the board was disbanding, he took charge as president, and that was all it took for the clouds to clear. He has a vision of what a great place Christian Child Care can be, and he set out full force to make it happen.
"I am inspired by Mr. Bill's energy and passion for all he does. He always has an encouraging word to make my day. He is a great board president, and Christian Child Care is all the better for his leadership."
In honor of the dedication, energy and positive attitude that Bill Martin brings to our community in all that he does, we are proud to name this "Mr. Positive" leader as LDN's Personality of the Week.
[By NILA SMITH]