---

Please circle Feb. 6 in red on your calendars. R.W. Garrett Agency Inc. and the Lincoln/Logan Chamber of Commerce will join the American Heart Association's fight against heart disease by observing Wear Red Day. We encourage employees, friends, customers and members to participate by wearing red to work and by donating to help the AHA raise women's awareness of cardiovascular disease and empower women to reduce their risk.
The chamber is proud to be joining the AHA and concerned companies and organizations across America in the fight against the No. 1 killer of women -- as well as of men. Wear Red Day is a chance for us to arm ourselves with knowledge about this devastating disease and to raise funds that will help the AHA advance its research and education efforts. Invite your employees to learn more about the national cause to increase awareness and help women reduce their risk of heart disease by visiting www.GoRedForWomen.org.
The R.W. Garrett Agency Inc. staff will be allowed to wear jeans that day as long as they wear something red. They are planning to have heart-healthy red juice and heart-healthy snacks for themselves and the other Illini Bank tenants. In addition, they have printed handouts available on knowing your risk factors for heart disease, warning signs for heart disease and stroke, and questions to ask your doctor regarding heart disease. They will be sending an e-mail to many of their clients inviting them to participate on Friday and supplying them with a poster and newsletter that they can share with their employees.
---

Have you ever heard someone say they were on the speech team and wondered to yourself, "What in the world is that?" This Thursday, Feb. 5, you will be able to find out at the LCHS Meet the Regional Speech Team Night. It will be in the auditorium at Lincoln Community High School at 6:30 p.m.
Participants:
Seniors -- Hailey Cooper, Kaylyn Engelhardt, Cody Follis, William Grover, Heather Meisenbach, Todd Schumacher, Jessica Sutton
Juniors -- Lorenda Kirby, Raeann Sheley, Caiti Wunderlin
Sophomore -- Katy Langdon
Freshmen -- Sara Buchanan, Jarrod Grover, Elizabeth Jaegle, Matt Mason, Tara Shane, Lauren Stanfield
---

West Lincoln-Broadwell honor roll
High honors, 3.6-4.0
Sixth grade -- Leah Anderson, Tara Bradley, Andrew Coop, Levi Curry, Kyle Fitzpatrick, Preston Marten, Lexi Morris, Betsy Olson, Jordan Yarcho
Seventh grade -- Kenneth Bacon, Lexee Klockenga, Joseph Olden, Michelle Paulus, Tiffany Strickler, Sam Tiffany, Alexandra Turner
Eighth grade -- Daniel Bacon, Allison Benner, Marissa Booth, Brian Cade, Josh Cale, Meghan Coleman, Dane Eimer, Austin Goodman, Morgan Lacefield, Joseph Lessen, Jenna Williams
(continued in next column)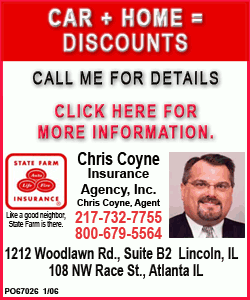 Honors, 3.0-3.5
Sixth grade -- Ross Beck, Brock Byrge, Kylie Fitzsimmons, Dalton Presswood
Seventh grade -- Grant Johnson, Livvie Muck, Adam Papirnik
Eighth grade -- Devin Biggs, Rylie Brackney, Cole Boice, Conner Schmidt, Bentley Turner
---

Commander Vince Long, Veterans of Foreign Wars of the United States, Department of Illinois, is announcing the Council of Administration meeting and their annual Voice of Democracy banquet honoring the winning scholarship essays, to be held Feb. 6 and 7 at the Crowne Plaza in Springfield.
National Junior Vice Commander Richard Eubank will be joining them for the committee meetings and will be the guest speaker at the Voice of Democracy scholarship banquet on Saturday evening, Feb. 7. Eubank was appointed to his position at the 109th national convention in Orlando, Fla.
Created in 1947, the Voice of Democracy scholarship program is an audio-essay contest for high school students in grades 9-12 that annually provides more than $3 million in scholarships. The VFW will recognize 19 students from around Illinois and award the winning students at the banquet. The national first-place winner, who competes with all the first-place VFW department winners, receives a $30,000 scholarship that is paid directly to the recipient's American university, college or vocational-technical school.
Besides competing for the top scholarship prize, as well as other national scholarships ranging from $1,000 to $16,000, each department's first-place winner receives an all-expense-paid trip to Washington, D.C., sponsored by Target.
---

The 11th annual 4-H Foundation spaghetti dinner will be Sunday, Feb. 8, from 11 a.m. to 1:30 p.m. at the Knights of Columbus Hall in Lincoln. The meal includes spaghetti and meat sauce, salad, garlic bread, dessert, and drink
Donations only. Silent auction available.
---
Got a good piece of news, information or something that we can all brag about? If you do, e-mail Mike and let us tell everyone about it. Plus, you can win cash. Every submission, whether we use it or not, will get your name in the "Close Up" grab bag. At the end of the month we will draw a name and someone will get $25 just for dropping us an e-mail. If you wish, we will be happy to donate your winnings to the organization of your choice. You can contact Mike at mikefak@lincolndailynews.com.
[By MIKE FAK]