---

Washington-Monroe School honor roll
Second nine weeks
High honors
Third grade -- Jaiden Aeilts, Taylor Carter, Ethan Goodey, Grace Bossingham, Ryan Boyd, Titus Cannon, Tabitha Cooley, Kelsey Lee, Shannon Rahn
Fourth grade -- Connor Aeilts, Emily Bergman, Honna Doolin, Nolan Hullinger, Cole Kindred, Bryson Kirby, Macie Rankin, Ashlyn Scruggs, Danielle D'Andrea, Christian DeVore, Noah Morgan
Fifth grade -- Bailey Camp, Ryan Crawley, Holly Davis, Abigail Everson, Lanae Laubenstein, Carrissa Richmond, Allison Baker, Madison Frederick, Victoria Parrott, Madeline Phillis, Kimberly Rhoades, Breanna Waller, Jordan Wood
Honors
Third grade -- Allena Benninger, Jason Beverman, Lamiah Byars, Hunter Cooper, Isaiah Lane, Adriana Doolin, Joshua Linares, Kevin Rhoades, Kisha Selph, Tate Sloan, Ariana Spencer
Fourth grade -- Shelbi Fisher, Kyle Freese, Martin Glick, Alex Linares, Lindsey Myers, Izzy Robbins, Tyler Albertson, Erika Dzekunskas, Laura Hurley, Trent Whitham
Fifth grade -- Christian Anderson, Aron Hopp, Kyle Ramlow, Breanna Shutt, Desiree Theobald, Garrett Aeilts, Hayley Barton, Rebecca Brooks, Kevin Fry
Honorable mention
Third grade -- Braiden Tisdale, Luke Bennett, Aubria Cannon, Michael Quarrell, Bradley Rahn, Alana Cosbey, Brayden Hunter, Jordan Malerich, Justin Hatfield
Fourth grade -- Sydney Anderson, Kaelin Butterfield, Darian Hardwick, Megan Purlee,
Nathan Sprague, Chenille Hubner, Samantha Johnson, Stephanie Parrott, Selena Quezada
Fifth grade -- Jordan Hobbs, Chance Koeppen, Jakota Phillips, Nathan Richardson, Hayden Slater, Cooper Hake, Ethan Kubat, Jayden Miljkovich, Carli Overbey, Kalliegh Rogers, Ty Whitetree
B.U.G., Bringing Up Grades -- Lilly Alsup, Drew Bacon, Sydney Dial, Josephine Shivers, Christian Lane. Corey Martinie, Stephanie Smith, Trevor Beavers, Briona Brown
---

Zonta Club will meet on Tuesday, Feb. 10, at 6:15 p.m. at the American Legion.
The program will be given by Nancy Haney, Area 3 director. Members should contact Judy Awe at 732-4758 before 7:30 a.m. on Monday if they are unable to attend.
---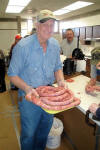 The annual Zion Lutheran School pancake and sausage meal (click on picture for larger image) will be this Saturday, Feb. 7, from 7 a.m. to 1 p.m. Meal prices are $6 for adults and $3 for children. Zion Lutheran School is located at 1600 Woodlawn Road. Carryouts are available. Call 732-3977 to place an order or for more information. Tours of the school will be given. Freshly baked cookies, cakes and other goodies will be at the baked goods table. There will also be dozens of silent auction items for sale.
---
Local real estate agents join Doris & Associates (click on pictures for larger images)
Nancy Carter, GRI, broker-associate and Realtor with the Logan County Board of Realtors, recently joined Doris & Associates. Nancy has been involved in real estate since the late 1980s. She has a background in nursing and transfers that sense of professionalism and caring to her work with buyer and seller clients. "I am especially eager to assist first-time homebuyers," she said. "They must have adequate information to make important decisions concerning homeownership." Please contact Nancy at the office, 735-7197, or her cell phone, 217-871-2555. Nancy's e-mail is nancycarter.dorisandassociates@LIVE.com.

Lester Cox, broker-associate-appraiser and Realtor with Logan County Board of Realtors, joined Doris & Associates on Dec. 1, 2008. Lester spent many years in banking and became an appraiser and realtor in connection with his banking career. With his strong history in the financial world, he will be able to help you assess your real estate needs. Please call Lester at 217-871-2842 for any buying, selling or appraisal needs. Lester's e-mail is lester.dorisandassociates@comcast.net.
---
Got a good piece of news, information or something that we can all brag about? If you do, e-mail Mike and let us tell everyone about it. Plus you can win cash. Every submission, whether we use it or not, will get your name in the "Close Up" grab bag. At the end of the month we will draw a name and someone will get $25 just for dropping us an e-mail. If you wish, we will be happy to donate your winnings to the organization of your choice.
You can contact Mike at mikefak@lincolndailynews.com.
[By MIKE FAK]