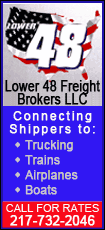 Effective today, February 09, 2009, City Clerk Melanie Riggs resigned her position as City Clerk of the City of Lincoln, Illinois. The Illinois State Police is conducting an investigation at this time and the results of that investigation are being provided to the Logan County State's Attorney.
Mayor Elizabeth A. Davis-Kavelman
City of Lincoln, Illinois
[Text copied from file received]
Editor's note: An attempt to gain further information from City Hall this morning has resulted in no further statements at this time.