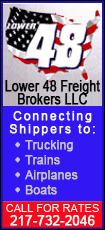 Dear LDN Editors:

On Tuesday, Feb. 24, the voters in the city of Lincoln will have an opportunity to elect a gentleman who is uniquely qualified to serve his community as mayor. The candidacy of Keith Snyder offers the voters a chance to elect a candidate who brings a great background of education and prior service. Keith Snyder's plans to "Energize Economic Development," "Elevate Community Pride" and "Engage the Future" make an interesting AND positive platform. Keith Snyder will be a great mayor of the city of Lincoln. I urge all voters NOT to miss this chance to make ours a better city.

Bill Gossett

[Posted February 11, 2009]

Click here to send a note to the editor about this letter.