Stephen Schwartz's "Godspell" will be presented March 26, 27 & 28, 2009 at 7:30 p.m. in the Earl C Hargrove Chapel Building on the campus of Lincoln Christian College.

Tickets are available by calling 217-732-3168, ext 2232. Adults - $9.00 and Students - $7.00.

The cast includes Devon Stribling from Atlanta, Illinois as Jesus and Jeremy Goeckner from Mt. Vernon, Illinois playing John the Baptist/Judas. Other cast members include: Aaron Zapata, Allison Jackson, Emily Davis, Josh Corbin, Shannon Miller, Julie Browning, Sarah Kimes, Allison Campbell, Brandon Davis, Lauren Smith, Rebeccah Campbell, Lex Reed, Scarlett Lee and Lindsey Capperune. The Living Stones Players Drama Club from Lincoln Christian Church will also be part of the cast and includes: Antonia Snell, Amanda Jones, Allison Bone, Garrett Maupin, Ryder Mills, Ethan Golden, Jesse Mangano, Abbie Ramsey, Matthew Squaire, Samuel Squaire, Zack Hazel, Shannon Halpin and Koey Smith.

The production is under the direction of Tim Searby and Jim Allison with Linda Storm serving as accompanist and Gary Shull choreographer.
---

"Mardi Gras" Art Day will be held at the YMCA Activity Center in the Art Room on Saturday, February 21st from 9:30 – 11:00 a.m. for children in 1st – 6th grade. Lisa Madigan will teach children about the Mardi Gras celebration and will experience a hands-on art project making Mardi Gras masks. Call or visit the Y office for more information about fees and registering your child.
---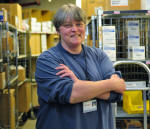 Abraham Lincoln Memorial Hospital is pleased to announce Dara Tesh as February Employee of the Month. (click on picture for larger image)
Dara has been an ALMH employee for nearly three years. She started in Environmental Services and transferred to Materials Management after about 18 months.
Her nominator said Dara is a pleasure to work with and does her job very well.
"Whenever a department is in need of supplies, she drops whatever she may be doing and provides great customer service," says April Matherly, who formerly worked in Dara's department but has since transferred to Same Day Care.
Dara was also recently praised by a co-worker in another department for tracking down the last person to access the ATM in the hospital. When Dara used it, there had been $10 left behind.
"Most people probably would have taken the $10 and went on with their day, but Dara didn't," says David Miller, charge nurse in the Emergency Department. "It is so nice and comforting to know that I work with peers possessing such honesty and will to do the right thing. Dara's a great example for all of us."
Dara begins each shift by checking the floor she is assigned to, ensuring needed supplies are restocked. She helps her department process receiving, crash carts and the mail, as well as filling requisitions.
Before coming to work at ALMH, she worked at Myers. Dara says the skills she uses in her position at ALMH include organization and math skills, in addition to good customer service.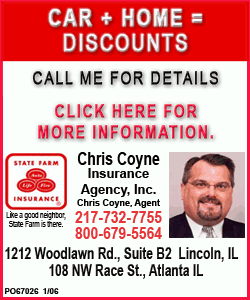 She enjoys the opportunities available at ALMH and the great co-workers throughout the building.
Adds Matherly: "She is always willing to lend a hand to help and is a great team player. That is one important thing that helps make ALMH a great place to work."
ALMH employs more than 290 in a wide variety of job functions. A different employee is honored each month for their commitment to creating GREAT patient experiences, getting GREAT results, and making ALMH a GREAT place to work.
---

The Knights of Columbus aren't waiting for Lent to arrive to get their ever popular Friday night fish fry going. Starting at 5:00 pm every Friday, patrons can get a catfish dinner for $8.00 or a walleye meal for $7:00. The portions are generous so enjoy a great meal and support a worthy cause. Carryouts are available. You can call your order in to 732-2548
---

The Humane Society needs a little help to give the kind of help our cats and dogs waiting for adoption desperately need. If you can offer a foster home for a pet waiting to be discovered by a great family, please call the Humane Society at 217-737-4042.
---

Lincoln Community High School will hold Freshman orientation for the Class of 2013 and their parents on Thursday, Feb. 19, 2009 at 6:30pm. The evening will begin in the LCHS auditorium with presentations by Student Government members, administrators and other high school personnel. Immediately following there will be an activity fair in the cafeteria. Student Government members will be available to give guided tours of the building.
At this meeting they will explain registration procedures, describe courses, and give information on the variety of activities that are available for your student to participate in during his or her high school career.
---
Got a good piece of news, information or something that we can all brag about? If you do, e-mail Mike and let us tell everyone about it. Plus you can win cash. Every submission, whether we use it or not, will get your name in the "Close Up" grab bag. At the end of the month we will draw a name and someone will get $25.00 just for dropping us an e-mail. If you wish, we will be happy to donate your winnings to the organization of your choice.
You can contact Mike at mikefak@lincolndailynews.com.
[By MIKE FAK]