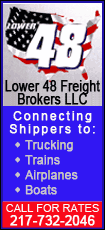 Cherie Preston and Kelly Cale have been working diligently together for the last three years. Their mission is to make sure every dog and cat that is brought to Logan County Animal Control has the best opportunity to end up in a caring and loving home.

Their efforts have been nothing short of remarkable. Julie Parker, animal control warden, has the statistics to bear that out. In 2008, out of 820 animals brought into the facility, only 38 dogs could not be placed, and with reason. They either had temperament problems or sickness.

The number of losses is higher for cats because many are feral and simply will not become social with humans, which makes them difficult to place. There also aren't enough families as receptive to adopting cats as there are for dogs in Logan County, Parker said.

Animal control facilities are generally government-funded and are there to provide basic services that protect the public from out-of-control animals. A shelter's focus is more on saving an animal. While research shows that many animal control centers struggle to save 25 percent to 35 percent of the animals they receive, our local pound is on the reverse end of that statistic, nearing an 80 percent save rate, which is actually as high or higher than some shelters that claim to save all animals that can be saved. But the rescuers intend to work harder to make that percentage even higher.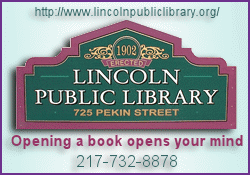 Preston is from Las Vegas and has been in Lincoln for six years. Cale is a lifelong Lincolnite and has a beauty shop, Kelly's Korner, which she operates in her home when she isn't working to save another four-legged friend. The two met three years ago at a pet booth at the fair and found their interests in trying to save animals a bond that set them to working tirelessly to save animals.
Cale takes pictures of all the animals brought in and gets them over to LDN for posting. Preston also puts the photos on Pet Finder to try to get the maximum exposure.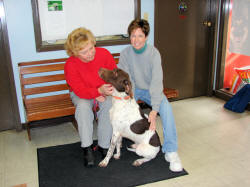 Marley, a young pointer, is one of their recent successes. He was picked up running at large. When he was brought in, he'd not been taken care of in some time, was emaciated and losing his hair. He had been picked up before, and his owner was known and contacted. The owner did not want his dog back.
The staff gave Marley extra care to nurse him back to health, feeding him three times a day to get his weight back up. He was lavished with attention and grooming by volunteers. Marley's recovery was amazing. He's now a fabulous-looking, affectionate and attentive pooch ready to go to a good home. A man whose pointer died in 2007
was driving over from Indiana to take him home.
It is a common occurrence for the rescuers to transport an animal somewhere else just to give it a new home and a new chance at life.
Thanks to the donation of a 1997 Dodge van from the Cales, Cherie has the ability to run animals all over for placement in no-kill centers. The ladies' regular trips together include locations in Illinois, Wisconsin and Indiana. On some occasions it takes them 12 hours from the time they leave until the time they return.
The rescuers have now gotten the saving of lives down to such a science that they take animals to Joliet, where they are met by rescuers from the north who have room for the animals at risk.
Both ladies have built trust with rescue shelters throughout the area. Cherie says that rescue shelters know she is honest with them. Therefore, when she says she has a good dog, they believe her. Cale was quick to point out that both of them have visited the shelters they work with and know firsthand that they are sending animals to good places that have a good chance of placing them.
Both ladies wanted to also give accolades to Susan Perdue, who owns and operates Puppy Love, a dog grooming business in Lincoln. Perdue helps to clean up dogs, making them presentable to the public, which greatly enhances their chances at being adopted. Cherie wanted everyone to know that Perdue spent hours cleaning up a great Pyrenees recently and totally changed the dog's appearance.
Julie Parker effusively praises the women. Not only have they helped save countless animals, but they have saved her and the assistant animal control officer, Maurice Tierney, "This would be too depressing of a place to work if Mo and I didn't know that everything that can be done to save an animal is being done," she said.
Parker has to face the dilemma of trying to have as many positive placements of animals as possible within budgetary guidelines. That's where these two rescuers come in and take over, saving the animals that might otherwise have to be euthanized due to lack of room at the facility.
Parker says that another important volunteer is Randy Wieland. He helps wherever he can and makes sure that every cat has at least some personal holding every day to help establish and maintain their social skills with people.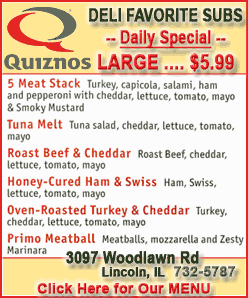 All the rescuers agree that the biggest factor in animal control lies with the interest, caring and responsibilities of pet owners . It is important to take into consideration the time and costs of ownership. Animals need to be seen by a vet and have their shots updated, and spaying or neutering helps keep the animal population under control.
Parker says that all the area veterinarians are a great help to animal control, and all, including the facility administrator, Dr. Michael Sanborn, focus their efforts on saving as many animals as possible.
Sometimes, the work of the rescuers is easy. A dog or cat comes in and is just what someone was looking for, which leads to a new start almost immediately. That isn't always the case, and Parker says that she advises Cale and Preston when there is a priority need to find a home or shelter for an animal that has been at the center too long.
The computer age has helped save more pets' lives. Posting pictures of animals on the Web often brings adoptive families together with an animal. Also, Preston is always in contact with shelters via e-mail. Shelters constantly update their available space, and she looks to see if they have a specific need for a certain type of dog or cat that is available here.
It is as if the ladies are running a computer dating service for animals and families. However, there is a difference: These matches not only enhance lives, they save lives.
The animal control facility could use more help from the local population. Although the newly formed Humane Society of Logan County is working hard to build and operate a center as soon as possible, there are still needs to be met right now. Volunteers are needed and welcome to lend a hand.
Families that adopt a cat or dog get a pet that has been properly vaccinated, microchipped, and spayed or neutered.
One current need that would improve the lives of impounded dogs would be to repair or replace the outside fencing at the animal control center. A new one would allow the dogs to safely be outside on nice days.
In the meantime, the rescuers, area vets, animal control personal and animal activist groups in the county will continue to save as many animals as possible without slowing down for even a minute to catch their breath. That is what rescuers do, and our community has some of the best.
That's why Cherie and Kelly and all the rescuers are this week's Personalities of the Week.
[By MIKE FAK]
Local support helps save animals lives. If you would like to help with a donation, the facility accepts:
Cat and dog food, and treats

Food and water bowls

Pet shampoo

Leashes and collars

Carriers and cages

Litter

Towels

Blankets

Laundry soap

Aluminum cans to recycle for cash
The local facility has modified its hours on Wednesday and Saturday to provide more opportunities for adoption.
___
Logan County Animal Control
Hours:
Postal address:
1517 N. Kickapoo St
Lincoln, IL 62656
Phone: 217-735-3232
(See the latest pets available.)