Other News...
sponsored by A-Plus Flooring

New journalism pioneer Gay Talese wins Polk Award

Send a link to a friend

[February 17, 2009] NEW YORK (AP) -- Author Gay Talese, who influenced a generation of writers with books such as "Thy Neighbor's Wife" and "Honor Thy Father," was named the winner of a George Polk Award for career achievement.

Other winners of the 2008 Polk Awards included New York Times reporters Barry Bearak and Celia Dugger, who risked their lives exposing violence in Zimbabwe, and Paul Salopek of the Chicago Tribune, who reported on pre-emptive U.S. tactics in combating terrorism in the Horn of Africa.

The Polk Awards, presented by Long Island University, are considered among the top prizes in U.S. journalism. They were created in 1949 in honor of CBS reporter George W. Polk, who was killed while covering the Greek civil war, and will be awarded at an April 16 luncheon in Manhattan. The awards were to be announced Tuesday.

Talese began his career as a copy boy at The New York Times and worked as a reporter there from 1956 to 1965.

He has written for publications including The New Yorker and Harper's in addition to his books, which also include "The Bridge: The Building of the Verrazano-Narrows Bridge" and "The Kingdom and the Power: Behind the Scenes at The New York Times." He is considered a pioneer of the literary style of reporting known as new journalism.

Other winners were:

The husband-and-wife team of Bearak and Dugger, who shared the Polk Award for foreign reporting. Even after Bearak was jailed for five days for illegal reporting, the pair continued to file stories describing the violence that shook Zimbabwe following disputed elections.

Salopek of the Tribune for reporting about the U.S. military's efforts to pre-empt radical Islamist activity in African nations including Kenya, Ethiopia, Somalia and Sudan.

David Barstow of The New York Times for a two-part series about retired military officers working as analysts for broadcast networks while moonlighting as paid defense industry consultants. Barstow reported that these ostensibly independent analysts used their air time to advance the interests of defense contractor clients.

Eric Nalder of the Seattle Post-Intelligencer for his two-part series "Demoted to Private: America's Military Housing Disaster." Nalder showed how the Defense Department awarded $1 billion in contracts to a politically connected consortium as part of an effort to privatize military housing construction.

Jim Schaefer and M.L. Elrick of the Detroit Free Press for stories that led to the resignation and jailing of Detroit Mayor Kwame Kilpatrick. The two found graphic text messages and other evidence showing that Kilpatrick had lied under oath about a sexual relationship with his chief of staff.

Paul Pringle of the Los Angeles Times for unearthing corruption in the Service Employees International Union.
Ryan Gabrielson and Paul Giblin of the East Valley Tribune of Mesa, Ariz., for a five-part series about Maricopa County Sheriff Joe Arpaio's campaign against illegal immigrants.

Richard Behar for an article about China's drive to invest in sub-Saharan Africa, published in the business magazine Fast Company.

Susanne Rust and Meg Kissinger of the Milwaukee Journal Sentinel for a six-part series on potential toxins found in everyday materials such as "microwave-safe" plastics and baby bottles.

Ken Armstrong and Nick Perry of The Seattle Times for a four-part series on the University of Washington's football team, which won the 2001 Rose Bowl even though at least two dozen members had been arrested, some on charges of violent felonies, while at the school.

Correspondent Scott Pelley, producer Solly Granatstein and co-producer Nicole Young of CBS' "60 Minutes" for a segment that showed how some American companies that are paid to recycle electronic waste have instead dumped it in China.

Filmmaker Stefan Forbes for "Boogie Man: The Lee Atwater Story," a portrait of the Republican operative and his continuing influence on American politics after his death in 1991 at age 40 from a brain tumor.

Alex Blumberg of "This American Life, produced by Chicago Public Radio and distributed by Public Radio International, and Adam Davidson of National Public Radio, for their collaborative report, "The Giant Pool of Money," which distilled the complex chain of events that led to the subprime mortgage crisis.
[Associated Press; By KAREN MATTHEWS]
Copyright 2009 The Associated Press. All rights reserved. This material may not be published, broadcast, rewritten or redistributed.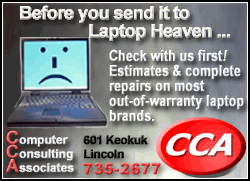 ---
News | Sports | Business | Rural Review | Teaching & Learning | Home and Family | Tourism | Obituaries
Community | Perspectives | Law & Courts | Leisure Time | Spiritual Life | Health & Fitness | Teen Scene
Calendar | Letters to the Editor