DEPARTMENT HEADS
There will be no immediate personnel changes in city employees. It is not appropriate to make changes just because a new mayor has been elected. As long as the city departments are operating efficiently and effectively there is no cause for replacements.
Under my administration, I will meet individually with each Department Head at least monthly, more often if necessary. At these meetings any pertinent issues will be reviewed and the status discussed. If an issue has not been resolved, I will want to know why. If the issue has been resolved, then we can put it to bed.
Each Department head, and any other positions reporting directly to the Mayor's Office, will receive an annual performance evaluation. In addition, each Department head or supervisor will provide annual evaluations on his/her immediate subordinates.
It is the mayor's responsibility to ensure each department under the Mayor's office's jurisdiction is operating efficiently. That includes addressing issues that might affect health and safety as well (as) issues that do not necessarily fall under that description.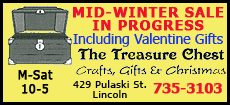 DISTRESSED PROPERTY
There are several locations throughout the City of Lincoln that need immediate attention paid to them. These properties are a health and safety issue and need to be cleaned up. Some properties have had virtually no maintenance or attention, if any, paid to them in what appears to be years and the time has arrived to try to resolve the problems. I will make certain the City, if asked to do so, provides advice and guidelines to the property owners to bring the property up to code.
Health and safety are vital elements to keeping a city safe, attractive, and thriving. It will be a policy of my administration that these properties, and potentially dangerous issues, get the attention needed and warranted.
STREET REPAIR
My administration will place street repair of the utmost importance. Every effort will be made to get these streets repaired to the condition we all deserve. There are several streets in town that need immediate attention.
Among those streets are:
College Street between 5th and 8th Streets, Oglesby Avenue, 400 block of Clay Street, First Street, Pulaski Street between Hamilton and Ladue, Ottawa Street, Lincoln Avenue, State Street, Fourth Street, College Avenue, Feldman Drive.
The aforementioned locations are streets that need attention desperately. Nearly every street in Lincoln needs some kind of repair. Finding the funds and resources necessary to improve the streets will be a tough assignment. However it is an assignment that must be met and achieved. My administration will do everything humanly possible to acquire those funds and resources.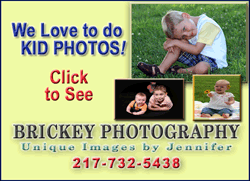 CITY CLEANUP
There will be an enormous effort given to cleaning up the City. My administration will work with various civic groups and churches to coordinate sprucing up the town. Together for Lincoln is a group which instantly pops up when the subject arises. That group, which is huge, was formed to do what was mentioned earlier, spruce things up. There are also several other groups that like to make projects their objectives. Lincoln High School, Lincoln College, Lincoln Christian College, and every church all have groups and clubs that would be more than willing to help if asked, or given permission, to do so.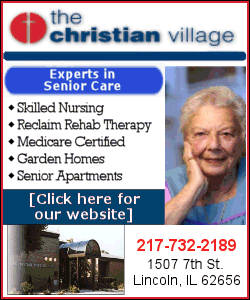 We can all pull in the same direction. We don't need to put the monkey on the City's Street Department to accomplish the goal, although the department would definitely be involved in some capacity. If certain things can't be done by volunteers because of insurance issues, then let's find out why and resolve it so private citizens can go about and clean up our town.
There are a number of ways we can rid the city streets and private (and public) property of unwanted tree limbs, unsightly general trash, and eyesores without creating an unnecessary burden on the City's resources and manpower. Freeing up the limited city manpower the Street Department has will allow them (to) repair the streets and keep them passable.
As the cleanup goes, I would like to see efforts made planting more trees, shrubs, and flowers on city property. Every thing we can do to make the city a more pleasant place to live and bring in visitors, the better.
HOURS OF OPERATION
My administration will work with all the City offices to have operating hours that will accommodate citizens. Too often, a person cannot conduct business with the City because the City offices are open only at the same time a person is working. Not everyone works the graveyard shift or has a weekday off that allows them to conduct business in person.
I would like to see City Hall open one evening a week until 7:00 PM and Saturdays until at least 11:00 AM. This will allow more citizens a chance to conduct business with our government. The citizens are the government and we need to make our administrative offices accessible to ourselves.
SPECIAL INTERESTS
My administration will not be beholden to special interests that do not have the best intentions for the City at heart. My administration will not be the 'good old boy' network. I simply will not tolerate it. We will not go back in time. Those that were in power need to understand the time has arrived to pass the torch.
CITY CODES
My administration will ensure city codes are enforced quickly and uniformly. The code is there for the safety and benefit of everyone and it must be enforced. As it is now, it appears it isn't being enforced across the board. At the same time, there must be some tolerance for a homeowner or small business operator who makes a mistake and violates a section of the code inadvertently. Whether or not it is now, my administration will ensure every effort will be made for uniform enforcement.
FUTURE
The philosophy of my administration will be today is tomorrow's future as today was yesterday's. All the long range, fancy worded plans in the world won't do one bit of good unless we realize the previous sentence. We need to stop the bleeding now, then go forward.
The City needs businesses but we can't go out and drag them here or force an enterprise to begin operating. We must first make the City an attractive and hospitable place to locate.
[Text copied from file received from Mike Thornton]