Cody Follis and Kaylyn Engelhardt in Dramatic Duet Acting
Kaylyn Engelhardt and Todd Schumacher in Humorous Duet Acting
Todd Schumacher in Special Occasion Speaking
---

The following are the final Lucky 6 winners in the March 2008-February 2009 year. The first drawing for the new year will take place on Friday, March 13, 2009.
$1,000 Maureen Connolley sold by Bobbie Connolley
$ 500 Patricia Morrow sold by church office
$ 300 Carol Leininger sold by Vanessa Tibbs
$ 100 Meliss Davis sold by John Kuznik
$ 100 Greg Williams sold by school office
$ 100 Doug DeMay sold by Leslie Singleton
---

Zion Lutheran School Honor Roll Second Quarter
High Honors
3rd Grade-Nathan Ford, Katie Hunsley, Emma Ritterbush, Mya Roberts; 4th Grade-Heather Heidbreder, Zack Prather, Anna Sielaff, Isabelle Thompson; 5th Grade-Lexie Groves; 6th Grade-Aaron Butler, Josh Mangano, Emma Nobbe, Logan Thompson, Grace Walters; 7th Grade-Bradley Miller
Honors
3rd Grade-Ashlan Broom, Emma Cooper; 4th Grade-Danielle Burgrabe, Claire Conrady, Brooklyn Hermes, Sydney Johnson; 5th Grade-Elizabeth Ford, Taylor Rich; 6th Grade-Kaya Albert, Lukas Nash, Jim Sielaff; 7th Grade-Kathryn Arneaud; 8th Grade-Grace Sheley
Honorable Mention
3rd Grade-Lauren Canady, Lance Podbelsek, Tori Tripplett; 4th Grade-Kalyn Roberts, Joel Robison, Hailie Williams; 5th Grade-Joe Ahrends, Ashley Baker, Caleb Fink, Rachel Lockenour, Teran Madigan, Rachel Podbelsek, Ben Steiner, Anna Walters, Taylor Whiteman, Breanna Whittaker; 6th Grade-Allie Cox, Tori Hoban, Emily Maaks, Faith Smith, Elizabeth Tripplett, and Caitlin Williams; 7th Grade-Justin Broom, Megan Opperman; 8th Grade- Brent Hunsley, Jesse Mangano, and Sam Opperman
---

Chester-East Lincoln will be hosting a FREE Preschool/Kindergarten Screening Thursday, Feb. 19, 2009 8:30 am-4:00 and Thursday, March 19, 2009 4:00-7:00 pm at the school for all children in the Chester-East district, birth through 5 years old. They will be checking Speech/Language development, development of Preschool Skills and/or Kindergarten Readiness. All children who will be 5 before September 1, 2009, and plan to enter kindergarten for the 2009-2010 school year need to go through this screening. Call C-EL at 732-4136 for an appointment for your child to be screened.
---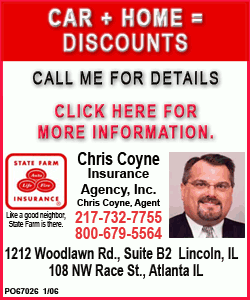 Trivia night will be held Saturday, February 21, at 7:00 pm at the St. Thomas Aquinas Activity Center, 321 S. Lafayette Street, Mount Pulaski, Ill.
The event is sponsored by St. Pats/St. Thomas youth group.
All proceeds will go to the Denver Mission trip in June 2009. There will be cash prizes for the winning team and food will be available. Call Nancy Davis at 217-947-2706 to register.
---

"History of Windmills" presentation. The Emden Historical Society is offering an interesting free program by John Durdle of Hopedale on Sunday, Feb. 22. Durdle will talk about the windmills that used to be found on every farm. There will be light refreshments after the lecture. The event will take place at the Emden Community House at 6:30 pm.
---

The Healthy Resolutions Seminar - The Oasis Center will be holding this educational and informational packed seminar for area residents on Feb. 19. This runs from 10 AM to 11:30 AM at the center. Learn how to select food and prepare recipes designed for chronic health conditions. Come join others with a similar interest in having a healthier 2009!
---
Got a good piece of news, information or something that we can all brag about? If you do, e-mail Mike and let us tell everyone about it. Plus you can win cash. Every submission, whether we use it or not, will get your name in the "Close Up" grab bag. At the end of the month we will draw a name and someone will get $25.00 just for dropping us an e-mail. If you wish, we will be happy to donate your winnings to the organization of your choice.
You can contact Mike at mikefak@lincolndailynews.com.
[By MIKE FAK]