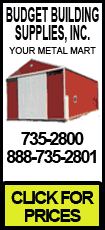 According to a Jefferson Parish Sheriff's Office arrest report, a 44-year-old man, who manages an appliance part store, may have made off with about $203,000 worth of inventory.
On Jan. 9, the manager filed a theft report indicating that 70 rolls of 50-foot copper sheets were missing from his inventory. The report said that further investigation by the company revealed that the manager had been entering the store after hours using his personal alarm code.
Officials said the manager later confessed to selling the equipment and pocketing up to $50,000 in cash on the deals.
___
Information from: The Times-Picayune, http://www.nola.com/