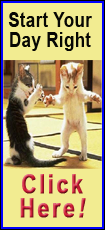 A deputy responded to an alarm at a convenient store early Tuesday morning and reported seeing a 37-year-old man exiting through a smashed-out front door while carrying several packs of cigarettes.
Deputies said the man tried to flee, but the handfuls of cigarettes prevented him from holding up his pants, which fell down and tripped him before he could make it out of the parking lot.
The man was charged with criminal mischief, burglary, theft and possession of drug paraphernalia. He was being held on $12,000 bail.
___
Information from: Pensacola News Journal, http://www.pensacolanewsjournal.com/