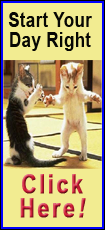 Areas of northern Florida and southern Georgia will see the heaviest shower activity and highest potential for severe thunderstorms and tornado development. Wind gusts in some spots could be as high as 35 mph.
Two low pressure systems will help produce a swath of rain and snow showers across the Northeast and New England states.
In the West, high pressure will keep the majority of the region fair. Cold and sunny weather was in store from the northern Plains to the Midwest.
Temperatures in the Lower 48 states on Wednesday ranged from a low of minus 15 degrees at Williston, N.D., to a high of 87 degrees at Harlingen, Texas.