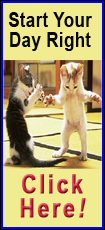 Chip Cafiero says he learned Friday he'd lost his attempt to contest the $115 ticket he got in Brooklyn on Nov. 28. A spokesman for the city Department of Finance, which handles such matters, wasn't immediately able to access records on the case Sunday night.
The 60-year-old retired schoolteacher had a sport utility vehicle double-parked near him while he handed out holiday bounty from a horse-drawn carriage. The SUV was ticketed.
He told the Department of Finance the SUV was there to protect the carriage and children from traffic.
Cafiero says the city can take his money, but it won't take away his Christmas spirit.
___
Information from: Daily News, http://www.nydailynews.com/