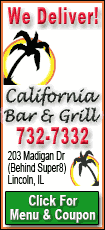 A message from the governor says:

This site was created to help us quickly share information about the American Recovery and Reinvestment Act, so that every deserving project in Illinois can capture and use its fair share of federal stimulus funds. Our Stimulus Team will work with every community in Illinois to:
Coordinate projects that will create long-term investment in Illinois;

Help potential stimulus projects meet implementation and reporting requirements;

Keep you informed about progress toward our shared goals of job creation, 21st century infrastructure improvement and economic growth.
I'm committed to working with elected officials at every level to ensure no deserving project goes unnoticed, and every potential public-private partnership is built. With this website, we'll pursue every stimulus opportunity we can and direct you to the best available information.
The website is at www.recovery.illinois.gov.
At the website, Illinoisans are encouraged to recommend a project for inclusion in the state's stimulus spending.
[Text from Illinois Recovery]