With Digital Photography class starting Thursday, Feb 26, at 7 p.m., there are only a few more days left to register. This hands-on course is taught by Steve Klemm, owner of Picture This Photography Studio. Steve has created a brand-new format for teaching this session. He has purchased a $169 over-the-counter digital camera, and the lesson plans have been based on this camera. Please bring your digital camera to class so Steve can answer questions pertaining to your camera. Featured will be printing, setting up software, making corrections and a host of fun projects that will make your hobby more interesting.

Five Fit Friends -- that's the name of our latest money-saving promotion. It is as simple as getting four of your friends and yourself to join for one year. All you have to do is have them fill out the membership forms, turn in their checks, and everyone receives a 10 percent discount. Joining at the circuit or full-access levels includes group exercise classes as well. This is a great time to join and save some money as well! Call Christine at 732-8770 if you have questions. Remember, life begins with fitness!

Ballroom Dance lessons are back! Join Mike and Julie Bieser in the Aerobic Room starting March 8, 1:30-3 p.m. Learn the swing dance, cha-cha and the nightclub two-step. I've taken this class and it is great fun, and you will really learn a lot. It is obvious that the Biesers enjoy teaching, and they'll have you dancing like the stars in no time at all.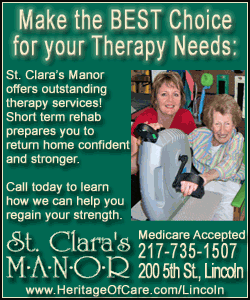 Just a couple of reminders:
Diane Meyrick is teaching Anahata Yoga. She invites anyone interested to join her for the classes on Thursdays at 4:30 p.m. A new four-week session begins March 3. You can register at the front desk.
It's Boys Baseball and Girls Softball registration time again. Forms are available at the front and back desk. Call the park district, 732-8770, or the Pony phone, 737-0060, for more information.
[Text from file received from Roy Logan, Lincoln Park District]