She was born and raised in central Indiana, where her father, Enos Dowling, was a country preacher and worked with several small churches surrounding Indianapolis.

As a child, Anita suffered several instances of rheumatic fever, starting at the age of 7 and recurring six times between then and early adulthood. As a result of her illness, she spent a great deal of time alone and had to use her imagination to entertain herself. This is the imagination that eventually led to her now labeling herself a "miniature illusionist." She says, "I look at things and I don't see what other people see. I don't see what it is, but what I can do with it."

Her collection of dollhouses exceeds 100, and each house has a story behind it. Anita says she has taken her life facts and gently embellished them into a fictional tale.

Her craft began when she fell ill at 10 years of age and her mother taught her to sew. This added another skill to feed her vast imagination, and she soon was making all sorts of things from fabric.

On her 12th Christmas, her gift was not one, but two dollhouses. She received the dollhouses but no dolls or furniture. So, using modeling clay, she made 22 dolls and then used her sewing skills to make complete wardrobes for each of them.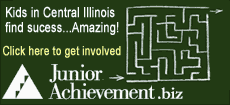 For furniture, she scraped the silver off old pocket mirrors and used toothpicks and modeling clay to make tables, chairs, beds and other items to decorate her "homes."
When at 14 years of age she started dating her first beau, Anita's mother decided that she was too old to play with dolls and dollhouses and gave them all away.
"I have been on a hunt for things ever since, and it just got out of hand," she laughs. "Whenever I present programs on the dolls, I say that my mother is responsible for me being a doll collector because she gave everything away!"
Among the dollhouses, there are some unusual items, such a travel trailer, painted silver to resemble the earliest Streamliner campers.
Anita explains that in 1952 the church where her father preached was preparing to build a new parsonage. The family spent that summer in a travel trailer much like the one she made.
It was at this point in time that she received a proposal of marriage.
The next year her mother and father moved to Lincoln. Her father became a professor at Lincoln Christian College in 1953 and was the first dean of the seminary.
Anita built her first dollhouse in 1985, when she still lived in Indianapolis. The large house stands about 4 feet tall and is decorated from floor to attic with miniature furniture, dishes and a very detailed kitchen, complete with teddy bear cookie jar (another item Anita collects in life size).
That dollhouse is also the home of the smallest dollhouse she's ever built. It is located in the attic playroom -- a tiny dollhouse for the little girls who live there. The nicely detailed, two-story miniature house fits in the palm of the hand.
When Anita moved to Lincoln in the early '90s to help take care of her father and an aunt, this first house that she had built was the only one that she moved into her father's home. Since then she has built in excess of 100 houses, not just for herself, but also for family and friends.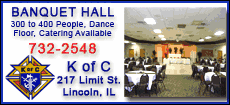 As an active member of the Lincoln Christian Church, Anita also contributes to their Harvest of Talents each year, usually with a dollhouse.
Anita hopes to eventually donate the "Lincoln House" miniature that is currently on display at Cape Landing in downtown Lincoln to the new Heritage Museum at Lincoln College.
On any given day, Anita has several projects going on throughout her home. She says that she shifts from one miniature house to another and right now has two she's working on inside her home and another four in the workshop shed outside.
Houses she has on display include a day care center called Miss Bunny's; a floral and landscaping shop; a dressmaker's shop, complete with a dress on a dress form in the front bay window; a replica of the home her parents built in 1941; a replica of a cottage in Minnesota her father, husband and herself built; and a Mom and Pop's Gas Station and Motel, complete with Coca-Cola signs and pop machines at the gas station; plus many, many more houses.
The pride of her collection, though, is the community she calls "Kingsville." You're invited to visit Kingsville through today's pictorial story: Anita King's "Kingsville."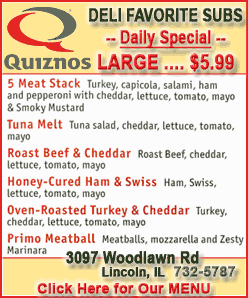 Still on her "to do" list is a bus that she plans to make, representing the old bookbinder who used to make the rounds.
Anita says that her father loved books and spent many years seeking out hard-to-find publications for the college library. Today the college has a room named for her father that is all rare publications.
She says that the binder bus would come around and repair damaged books. This was how her father learned to do binding himself. Anita says it is a fitting tribute to her father and his love of books that she should add the binder's old bus to her collection.
If you don't believe that Anita lives and breaths dollhouses, just ask her doctor! A few years ago she took a bad fall and ended up breaking both arms, one so severely that it required surgery. When the surgery was done and she was awakened, her doctor informed her that he now knew everything there was to know about dollhouses because under anesthesia she had talked constantly and in detail about them.
She said that he later expressed the stress he felt, wondering whether he had done a good enough job on her arm so that she would be able to continue her labors of love.
In addition to the dollhouses, Anita collects antique and vintage dolls. The majority of what looks to be a thousand or more dolls she has gotten secondhand, many of them damaged. She has taught herself to refurbish the dolls and even does this type of thing for others.
Included in the collection are tiny dolls less than a half-inch tall, all the way up to life-size babies and toddlers. She has several vintage Gene dolls from Ashton-Drake, bride dolls, 11-inch fashion dolls such as Barbie, plus a collection of Beanie Babies, and panda teddy bears.
She belongs to the Logan County Doll Club and often gives talks to the group on repairing and collecting dolls.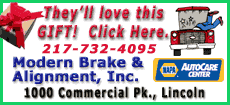 Anita says it is important to know what a doll is made of before you start working on it. Whether it is porcelain, composition or hard plastic, each one has to be handled in a unique way.
Over the years, Anita has developed her own filler mix for repairing damaged composition dolls. Anita says that she bought filler and was not pleased with it, plus it was quite expensive, so she started experimenting with different mediums until she found her own formula. She does share the formula with fellow collectors but says she is not interested in selling it to businesses or manufacturers.
Anita, with the support of her children and grandchildren, has a goal for the future of opening a museum here in Lincoln with dollhouses and dolls.
She says that they have researched and found that there are tourism grants available, but before they can apply, they must have a building. So far the buildings they have looked at are not large enough to do what they want to do.
The museum would house all the dollhouses, plus the doll collections, and would offer a research library focused on dolls. These plans also include a fully illustrated book showing each house she has built and telling the "fact and fiction" story surrounding it.
Hopefully that museum will someday come to be, but in the meantime, if you are lucky enough to be invited into Anita's home, don't pass up the opportunity.
The home full of dollhouses will make you feel like a child again, filled with wonder and totally consumed by all the eye can behold.
[By Nila Smith]