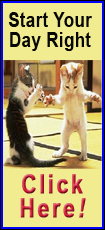 Japanese stocks, higher in the morning, closed little changed even as the weakening yen hovered near three-months lows against the dollar, easing pressure on exporters. China's markets took the day's biggest beating as enthusiasm for Beijing's stimulus measures runs low and the economic outlook remains grim.
Across the region, investors appeared unconvinced by U.S. Treasury Department's plan to "stress test" 19 of the largest banks to determine whether they can endure a severe downturn in the economy. Under the plan, any companies that fail under two economic scenarios would be required to raise private funding or accept government stakes.
A lack of specifics about the government's rescue program had weighed on markets in recent weeks. While modestly encouraging, details released overnight weren't enough to persuaded investors the plan is a surefire solution to U.S. financial problems at the core of the worst global slump in decades.
"Investors are confused. They want to be positive, but there's increasingly nagging doubt that we're anywhere near a complete solution," said Kirby Daley, senior strategist at Newedge Group in Hong Kong.
In Europe, markets were higher as the Royal Bank of Scotland posted a record net loss of 24.14 billion pounds ($34.4 billion) for 2008 -- the biggest in British corporate history -- and announced a massive program to divvy up many of its international businesses.
As the markets opened, Britain's FTSE 100 advanced 2.1 percent, Germany's DAX added 1.7 percent and France's CAC 40 gained 1.4 percent.
Earlier in the day, Asian markets started to giving back their gains by the afternoon, showing the uncertainty still clouding the outlook for the region's equities markets.
Japan's Nikkei 225 stock average closed largely flat, off just 3.29 points at 7,457.93 after being up more than 1 percent. Hong Kong's Hang Seng lost 0.85 percent to 12,894.94 and South Korea's Kospi was traded lower by 1.2 percent to 1054.79.
In mainland China, the Shanghai benchmark plunged 3.9 percent to 2,121.25. The index, while still up over 16 percent for the year and among the world's best performers, is well below its highs in 2009.
Stock measures in India, Thailand and the Philippines also traded lower, while markets in Australia and Taiwan rose. Singapore was flat.