Family caregiver services, local blood drives, Lincoln College cruise and breast cancer support group in Close Up
By Mike Fak
[February 27, 2009] Family Caregiver Services are available Monday, March 2, 2009 from 11:00 am -1:00pm: Gloria Plummer, Field Coordinator with the Area Agency on Aging for Lincolnland will be at the Oasis Senior Center, 501 Pulaski St, Lincoln, IL to meet with family caregivers or grandparents/relatives raising grandchildren to answer questions and provide information regarding services. These consultations are free of charge and on a walk-in basis. Gloria will be at the Oasis Senior Center, the first Monday of every month from 11:00 a.m. – 1:00 p.m. to meet with caregivers individually regarding their questions. For more information on these services, contact: Gloria Plummer at 217-787-9234, 800-252-2918 or gplummer@aginglinc.org.
---

Local blood drives need your help with blood donations for patients in area hospitals. The Central Illinois Community Blood Center is offering several opportunities to donate blood throughout Logan County. Monday, March 2 Lincoln Masonic Center, 2022 North Kickapoo; 12 PM – 6 PM. Friday, March 6 Mount Pulaski – Mount Pulaski High School, 206 South Spring; 8 AM – 12:00 PM.
In addition the donor room, located at 1134 South Seventh Street in Springfield, is open on Mondays and Tuesdays from 9 AM – 5 PM, Wednesdays and Thursdays from 7 AM – 6 PM, Fridays from 8 AM – 4 PM and Saturdays from 9 AM – NOON.
Appointments at any blood drive or the donor center may be scheduled online at www.CICBC.org or by calling 753-1530, ext 57. Walk-ins are also always welcome.
The Central Illinois Community Blood Center is a not-for-profit organization that provides blood to 19 area hospitals. Blood collected at these drives is intended for local hospitals. For more information about blood drives, blood facts, blood types please check out the Web site at www.CICBC.org. Please give what's in your heart and donate blood.
---

Time is running out to reserve your space on the Ultimate Cruise Adventure 2010. The cruise group is hosted by Lincoln College and will set sail out of Ft. Lauderdale, FL January 23-30, 2010.
The cruise, which is open to the public, is a seven night adventure which will visit three ports of call: St. Thomas, St. Maarten, and Nassau, Bahamas. Cruise-goers will set sail on Royal Caribbean's newest cruise ship Oasis of the Seas, the largest and most revolutionary cruise ship in the world, which will launch in late 2009.
Lincoln College Alumni Relations & Special Events Coordinator Kerri Taylor says, "It will be the vacation of a lifetime. The ship will launch her maiden voyage in late 2009. She will be the largest and most revolutionary cruise ship in the world! This ship has something for everyone of every age! From the Spa, private cabanas, lounge chairs and the solarium for quiet relaxation to the zip line, FlowRiders, sports deck, H2O Kids Zone, carousel, Rising Tide Bar, shopping, and so much more! Grab your family and friends and set sail with us on this ultimate adventure. You'll get to enjoy this amazing new cruise ship along with three beautiful and fun-filled islands. Act NOW, over 75% of the ship is sold out already. Our limited blocked space won't last much longer. Pay a small deposit now and final payment isn't due until Oct. 30, so there's plenty of time to save up! We look forward to an unforgettable week! We hope you'll join us!"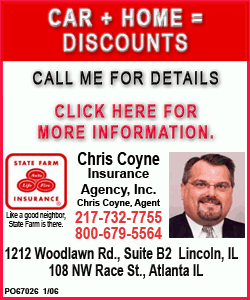 Those who are interested in signing up or for more information should contact Kerri Taylor in the Lincoln College Alumni office. Call toll free at 877-522-5867 or e-mail: ktaylor@lincolncollege.edu.
---

Logan County Breast Cancer Support meetings are the first Tuesday evening of each month, sponsored by the Breast Cancer Network of Strength. The group invites anyone who is a breast cancer survivor and anyone who loves them to attend. The next meeting will be at the First United Methodist Church, Lincoln at 7-8:30 pm March 3rd.
---
Got a good piece of news, information or something that we can all brag about? If you do e-mail Mike and let us tell everyone about it. Plus you can win cash. Every submission, whether we use it or not, will get your name in the "Close Up" grab bag. At the end of the month we will draw a name and someone will get $25.00 just for dropping us an e-mail. If you wish, we will be happy to donate your winnings to the organization of your choice.
You can contact Mike at mikefak@lincolndailynews.com.
[By MIKE FAK]