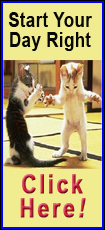 She used her favorite pan to fight the intruders at her home west of Cleveland on Tuesday. Police then took it from her to be used as evidence.
Basinski was on the phone with her husband when the teens pushed their way into her home.
Her husband, Lorain County Judge David Basinski, overheard the scuffle, called 911 and raced home. Meanwhile, his wife says she grabbed the 5-quart saucepan and hit one teen, who was going through her purse.
The four were arrested. The judge said his wife was upset that her pan was seized by police.
---
Information from: The Plain Dealer, http://www.cleveland.com