The Lincoln Public Library is located at 725 Pekin St., with adult nonfiction and reference materials in the historic Carnegie Building. In the Annex Building directly behind are adult fiction and the Youth Services Department. All library events are free and open to the public. On the Web, visit www.lincolnpubliclibrary.org.

Hours are Mondays, Wednesdays and Fridays, 9 a.m.-5 p.m.; Tuesdays and Thursdays, 9 a.m.-7 p.m.; and Saturdays, 9 a.m.-1 p.m. Phone 217-732-8878 for adult services and 217-732-5732 for youth services.

January library notes

Send a link to a friend
[January 02, 2009] The Homework Helper program resumes on Jan. 12 in the Youth Services Department of the Annex Building. Lincoln Christian College education majors are available to assist students with schoolwork and reading skills. Children in third through sixth grade can take advantage of this help Monday through Thursday from 3:30 to 4:45 p.m. until April 2. Students will be accepted on a first-come, first-served basis as space is available. For more information, call LCC at 732-7788, ext. 2353, and talk to Candra.
Teddy Bear Picnic
Our annual winter "indoor picnic" will be Jan. 17 from 10 to 11 a.m. in the downstairs Pegram Room of the historic Carnegie Building. This popular event features stories and a picnic snack fit for a bear -- a honey sandwich, teddy grahams and juice -- that can be shared with your favorite stuffed animal! The highlight will be a visit from a bear character that all the children will love to meet. Parents, be sure to bring your camera, as this is a sweet, old-fashioned party. This picnic is for children up to 8 years old. Call 732-5732 to register. Registration for this event closes Jan. 15 to allow an accurate count for lunches.
Coming soon in 2009: Picturing America
In partnership with the LCHS National Honor Society and Audio/Visual Club, a public DVD exhibit of reproductions of significant American art, architecture, photography, sculpture and decorative art will be on display. Students will offer a visual narration and interpretation of the reproductions. This DVD exhibit in the Annex Building will begin soon and change bimonthly for the remainder of 2009.
New magazine titles for 2009
In addition to our current magazine subscriptions, we are adding three new titles for this year. We now offer Kiki in the Youth Services Department and Natural Home and ShopSmart (from Consumer Reports) in the Adult Department.
Book displays
Come in and see our display of books about Martin Luther King Jr. Whether you are reading for a school report or just for fun, we always have interesting groupings of books to peruse. We also have pop-up books and books with fold-outs to enjoy while you're here in the library.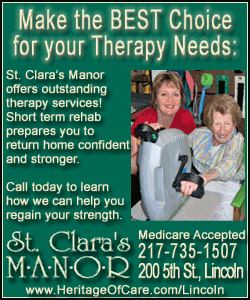 Story time and craft time
Our story time groups are Little Listeners Lapsit for age 6 months to 2-year-olds, Beginning Book Buddies for 3- and 4-year-olds, and Ready Readers for 5- to 7-year-olds. Seven-week sessions are offered in the winter, summer and fall. The winter session starts Feb. 3 and sign-up will begin Jan. 26. Craft classes are for 8- to 12-year-olds and follow the same schedule as story times. The winter craft session starts Feb. 5 and sign-up is no more than two weeks in advance of each craft class you would like to attend.
Upcoming events
Check back for information on upcoming events. Look for an organizational meeting in March for an Adult and Child Book Club, a Babysitting Clinic sponsored by the American Red Cross in April, and our butterflies (as caterpillars) will arrive in late April.
Live Homework Help
Log on to www.lincolnpubliclibrary.org to get help from a live tutor from 4 to 10 p.m. every day. The one-on-one help is available to kindergarten through adult learners in math, science, English, social studies and writing. Use your Lincoln Public Library card number to enter.
[Text from file received from Marlene Perry, Lincoln Public Library]