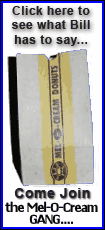 Ranked No. 1 early this season, the Bulldogs (10-3) gave coach Mark Richt his sixth bowl win in eight tries.
Stafford was just 6-for-14 and an interception in the first half. After that, he looked more like the quarterback that NFL teams covet -- if he decides to pass up his senior season -- in going 14-for-17 and the three scores in a span of 18 minutes.
Stafford was picked as the game's MVP, completing his performance by showing a nice touch in threading a 21-yard TD pass to Moreno late in the fourth quarter. Stafford set a single-season school record with 25 touchdown passes.
The loss by Michigan State (9-4) left Big Ten teams 1-5 in bowls this season. Penn State and Ohio State were underdogs in their later bowls.
The expected showdown between star running backs Javon Ringer and Moreno never materialized. Moreno ran for 62 yards on 23 carries; Ringer had 47 yards and a TD on 20 carries.
Neither team mustered much on offense in the first half.
Stafford and Bulldogs broke loose in the third quarter, with Michael Moore catching a 35-yard touchdown passes and Aron White catching a 21-yard TD toss.
Ringer scored on a 1-yard run midway through the fourth quarter -- his school-record 22nd -- but quarterback Brian Hoyer's pass for a two-point conversion was long.
Hoyer completed 16 of 31 passes for 159 yards with an interception and gave way to backup Kirk Cousins on a couple of first-half series. He threw 21 yards to Mark Dell on fourth-and-22 late in the fourth quarter, and followed that with an interception in the final 40 seconds.