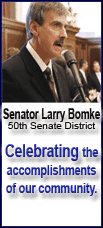 These people are all recognized as community leaders, selfless individuals and those among us who do more than is asked without needing to be asked.

We intend to continue this special segment next year and we have a great list of personalities whose stories we want to share with you.

We recognize that as much in tune with the community as we try to be, there are individuals or couples among us that are unsung heroes and heroines to their churches, civic organizations and communities that we are not aware of. And so we ask for your help.

If you know someone special who should receive the praise and accolades that they so richly deserve, please let us know.

The requirements to be added to our list of personalities are that the individual or couple is actively engaged in helping others, promoting the common good, and has a history of effort in a cause that makes them a special personality.

There are a lot of great and generous people in this community and we want to be able to not only tell their story but also the story of the cause they believe in and contribute to.

So there you have it. Let us know who we need to add to the list of Personality of the Week for 2009. We have some great stories coming up. We know you will let us know of more that we need to include. You can send your recommendations and why you feel this person, or persons, need to be included to mikefak@lincolndailynews.com.
---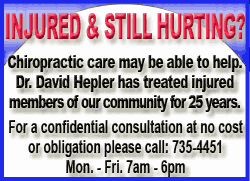 ---

To help ensure an adequate blood supply for local hospitals, the Logan County Shrine Club is sponsoring a blood drive at the Lincoln Masonic Center located at 2022 North Kickapoo Street in Lincoln on Monday, January 5, 2009. The hours of the blood drive are 12:00pm - 6:00pm. For your convenience, please call Jessica to sign up (toll free) at 1-866-GIVE-BLD, ext. 6814 or schedule an appointment online at www.cicbc.org. Walk-ins are also welcome and truly appreciated.
The 2008-2009 Springfield Clinic High School Blood Challenge starts May 12, 2008. Donate blood at this drive and ask that your donation be credited to Lincoln High School or a high school in your community participating in the challenge. The high school that wins the challenge will receive a $1,000 college scholarship from Springfield Clinic to award to a graduating senior who plans on furthering their education.
Our donor room is located at 1134 South 7th Street in Springfield. We are open to collect blood on Mondays and Tuesdays from 9:00am to 5:00pm, Wednesdays and Thursdays from 7:00am to 6:00pm, Fridays from 8:00am to 4:00pm and Saturdays from 9:00am to NOON.
The Central Illinois Community Blood Center is a not-for-profit organization that provides blood to 19 area hospitals. Blood collected at these drives is intended for local hospitals. For more information about blood drives, blood facts, blood types please check out the web site at www.cicbc.org. Please give what's in your heart and donate blood.
---

Pride and Progress Awards
It is that time of year, when we get to honor the best in our community. The Lincoln Logan County Chamber of Commerce needs your help in selecting candidates for these awards. You can pick up a nomination form at the Information Station but time is running out. Entries must be submitted by Jan. 2, 2009. The awards will be given out at our Annual Dinner on January 24, 2009.
---
Got a good piece of news, information or something that we can all brag about? If you do, e-mail Mike and let us tell everyone about it. Plus you can win cash. Every submission, whether we use it or not, will get your name in the "Close Up" grab bag. At the end of the month we will draw a name and someone will get $25.00 just for dropping us an e-mail. If you wish, we will be happy to donate your winnings to the organization of your choice.
You can contact Mike at mikefak@lincolndailynews.com.
[By MIKE FAK]