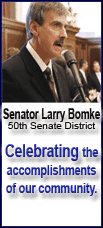 The Johnson City Press quoted Unicoi County Sheriff Kent Harris saying the man told investigators the decorations were blown onto his property by the wind.
Harris said his office received a tip on Wednesday from a man who said he saw someone take flowers from Evergreen Cemetery and take them to the man's house.
Executing a search warrant, deputies found about 50 items including ceramic angels, a pair of praying hands, small Christmas trees, lights and several flower arrangements in the home and on his property.
___
Information from: Johnson City Press, http://www.johnsoncitypress.com/