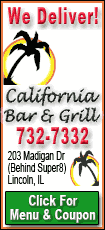 Lincoln's downtown faces these same issues, but thanks to many dedicated shop owners and merchants who believe in the square, Lincoln's downtown has not become another ghost town of empty buildings telling the stories of what once was.

Melody Shew, the owner of MKS Jewelers Ltd., at 614 Broadway, is one of those business owners who believe in the square. She works hard not only to keep her business viable, but also to help the other businesses that make up our downtown district.

Originally from Champaign, Melody met her husband, Allen, a Lincoln area native, when he attended the University of Illinois. "Our church was sponsoring a program where we hosted U of I students, and we got Allen. We decided to just keep him," Shew said with a smile.

For a time Allen and Melody lived in Lewiston, Pa., but when Allen's family said he was needed to return and run the Chestervale Grain Elevator, a family business, they moved back to Lincoln.

Allen and Melody both preferred the smaller town atmosphere, and with two children, Angie and Mark, they wanted them to be able to go to a school with a good reputation for education, like Chester-East Lincoln.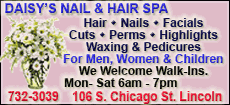 As Allen ran the elevator, Melody worked at the jewelry store owned by Jim and Dorothy Williams on the 100 block of north Kickapoo. When Jim died, Melody bought the business in September of 1981.
Shortly after she took over the business, it was destroyed by fire in February of 1982.
Melody felt it was important to rebuild quickly to make sure customers knew that the Williams Jewelry store would still be where they could go to buy high-quality jewelry. She opened up in a less-than-ideal location on the 100 block of South Kickapoo. When she heard that the location on Broadway would be available, she jumped at the chance to move.
It was at this time that the store was renamed MKS.
When asked if she ever thought of moving her business somewhere else than a downtown location, Melody's answer was quick and emphatic: "No, we wanted to be on the square."
It is this commitment to the square that has earned her the respect of the other downtown merchants.
Shew has a well-deserved reputation of always trying to help her customers with their needs, and over the years she has created a strong base of clients. She also has earned this same reputation of always being willing to help the other owners on the square.
Wanda Lee Rohlfs, the director of Main Street Lincoln, has nothing but praise for Shew: "Melody is always upbeat, always positive. She participates in all our events and activities and is a real supporter of everyone on the square. She is on our promotions committee, and when we ask for help she always volunteers."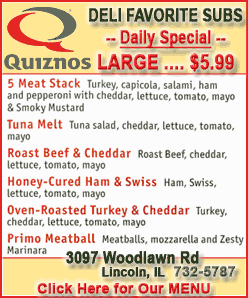 This support for other businesses on the square was echoed by several merchants. Barb Reinwald, Main Street president, also mentioned how positive and supportive Shew is of everyone trying to make a living on the square. "I'm not sure if Melody knows this, but in a way, she has been a mentor to me," Reinwald said. "She helped me when I had to make a decision to move, and she was there for me when I had questions or needs. She is a fair and gracious person and really understands how to run a business."
Reinwald also echoed what others on the square say about Shew: "She is always there to help. She is always willing to be involved."
Shew understands how to run her business, but she also is a cheerleader for all the other merchants on the square, as well as within the community. "If we don't have something, we will try to help find it somewhere else at another store in Lincoln," Shew said.
One of the signature events on the square is the yearly prom grand march, started by Shew in 1990. On a trip she saw a similar event in Princeton, Ill., and thought that allowing the community to see the young people on prom night in a classical setting such as the square was something that Lincoln should have.
Now, after 18 years, she has the event organized to the point it is completely funded and will continue to be an annual event.
Shew does have concerns and wishes about downtown Lincoln just like everyone else. "Parking is a problem, but I don't know what the answer is," she said. "We have tried meters, two-hour meters, no meters, but parking is still a concern."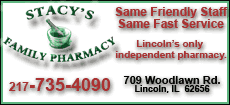 When Shew was asked if there was a specific business she would like to see added to downtown, she said, "A clothing store would be nice. I remember Landauer's was here on this block for years, and I think that a clothing store would help all of us."
It is this thinking that each store helps each other that gives Shew such a positive reputation on the square and made her this week's Personality of the Week.
[By MIKE FAK]