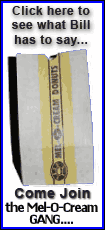 Now there's the groin injury that's dogging LaDainian Tomlinson to the point that he might have to sit out the San Diego Chargers' playoff game at Pittsburgh on Sunday.
The star running back isn't sure if a week's worth of treatment and rest is going to be enough to allow him to play.
"I don't know. It's tough," Tomlinson said after the Chargers' light workout on Monday. "This is a tough injury. I would probably venture to say it's probably the toughest of my career. We'll see what happens."
The injury, sustained in the final regular-season game, robbed Tomlinson of his burst and shiftiness to the point that he came out of Saturday night's 23-17 overtime wild-card win over the Indianapolis Colts after scoring on a 3-yard run early in the second quarter.
Speedy little Darren Sproles took over after that. Sproles had 328 all-purpose yards, including the winning 22-yard touchdown run.
The Chargers say Tomlinson has a strained groin. There have been reports he has a detached tendon.
L.T. chose not to clarify the situation.
"I won't because it is a medical issue and different doctors have their opinions," he said. "I'll leave it at that."
If a week's worth of treatment and strengthening exercise go well, Tomlinson could test the groin before the game on Sunday, as he did before Saturday night's game. But he also said there's a chance he could be ruled out of the game before Sunday arrives.
"I'm pretty sure at some point I'll try it to see where I am. Then we'll see what happens. That's why we're leaving it as day-to-day and just see how it reacts."
Tomlinson hurt his left knee in last year's divisional-round upset win at Indianapolis, then aggravated it early in the AFC championship game at New England. He stood on the sideline for the final 3 1/2 quarters of the 21-12 loss to the Patriots.