AMVETS, Main Street, Habitat for Humanity, Zonta, Humane Society, Homework Helper and YMCA all in Close Up
By Mike Fak
[January 06, 2009] Congratulations to Lincoln AMVETS Post #71. They won the December Close Up drawing and a check for $25.00 will be going out to this fine organization. Remember all you have to do to get the word out on your organization, church or community project is to let us know. And you might win a little cash as well.


Wanda Lee Rohlfs, the director of Main Street Lincoln wants everyone to know there are still some 2008 Main Street Christmas ornaments left. You can stop by their office on the square and for only $16.00 get a memento that will last a lifetime of Christmases.



---

Habitat for Humanity wants to announce that Tuesday, January 6, at Culvers from 5:00 -8:00 pm a percentage of sales will be donated to the local Habitat for Humanity organization.
---

Zonta Club will meet on Tuesday, January 13 at 6:15 p.m. at the American Legion. The program will be about Amelia Earhart. Members should contact Judy Awe at 732-4758 before 7:30 a.m. on Monday, January 12 if they are unable to attend.
---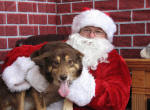 It's been a while since we showcased a Humane Society animal looking for a new home so why not today. This dog's name is Sasha. She is 6 years old and a very sweet girl. She is a Chocolate Lab/Husky mix. She loves to snuggle up with on a cold night. Sasha gets along well with other dogs but prefers to be the only one getting attention. She would make a great new friend for you to start the New Year off. She has been spayed, up to date on shots, and micro-chipped. If you would like to meet her, or be a foster home for someone like her, please call the Humane Society at 737-4042.
---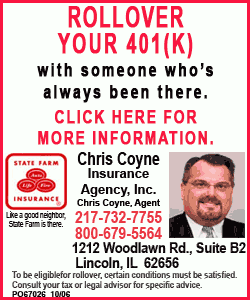 The Homework Helper program resumes on Jan. 12 in the Youth Services Department of the Annex Building. Lincoln Christian College education majors are available to assist students with schoolwork and reading skills. Children in third through sixth grade can take advantage of this help Monday through Thursday from 3:30 to 4:45 p.m. until April 2. Students will be accepted on a first-come, first-served basis as space is available. For more information, call LCC at 732-7788, ext. 2353, and talk to Candra.
---

The year 2009 is here and the YMCA has already begun raising the bar! Some great things in the works to help facilitate this new motto are a new website, three seasonal brochures, higher expectations of ourselves, plus many others.
The new site has already launched (www.lincolnymca.org)! One seasonal brochure has already been printed and delivered (next one in March). If you have any other suggestions on how to help "Raise the Bar," please feel free to call the YMCA at 217-735-3915.
---
Got a good piece of news, information or something that we can all brag about? If you do e-mail Mike and let us tell everyone about it. Plus you can win cash. Every submission, whether we use it or not, will get your name in the "Close Up" grab bag. At the end of the month we will draw a name and someone will get $25.00 just for dropping us an e-mail. If you wish, we will be happy to donate your winnings to the organization of your choice.
You can contact Mike at mikefak@lincolndailynews.com.
[By MIKE FAK]