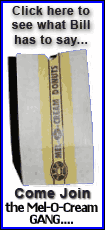 "It's definitely torn," Tomlinson said after sitting out Wednesday's practice. "I can't really elaborate on it because I don't want to give too much information away."
Tomlinson was hurt in a 52-21 rout against Denver in the regular-season finale on Dec. 28 that clinched the AFC West title. The team has listed him as having a strained groin.
"If it was a strain I'd be able to play with it, trust me," Tomlinson said. "A lot of guys have strains."
Reports surfaced prior to Saturday's wild-card win against the Indianapolis Colts that Tomlinson has a detached tendon that connects one of his groin muscles to his pubic bone.
Tomlinson started against the Colts but came out after scoring on a 3-yard run early in the second quarter. With Darren Sproles filling in, the Chargers won 23-17 in overtime.
Tomlinson said this injury has been tougher than any he's had during his brilliant eight-year career.
"It feels like something is tearing away from my leg. That's how I know that it's messed up because before, when I've had groin injuries, I haven't felt that," said Tomlinson, the NFL MVP in 2006 who set league records that year with 31 touchdowns and 186 points. "Whenever you feel a popping or like it's tearing, that's usually not good."
NFL teams don't give an injured player's status until Friday. But Tomlinson said his status is doubtful, meaning there's a 75 percent chance he won't play.
"That's pretty much what I feel like I'm at," said Tomlinson, the franchise's most brutally honest employee.
Has he been ruled out of the game?
"No. Not yet," he added.
If the Chargers keep winning, there might be a chance Tomlinson could return.
"I think it's possible," he said. "I'm never going to rule it out. I'll have to start to feel much better, though."
Tomlinson said there's a chance he could make the injury worse if he continued to play "and do some of the things I have to do. Who knows how much? Once again, I don't even know if it's going to require surgery."