Also of note in 1909 was that on Jan. 9 in a rural area outside Atlanta, Ill., a child who for the greater part of a century would affectionately be called Mrs. Moore was born to Bert and Ethel Leonard.

Spending an hour with former teacher LaVara Moore is both a history lesson and a lesson on life. The soon-to-be centenarian was kind enough to share her time as she awaits commemorating her century of living.

Mrs. Moore tools around St. Clara's Manor quite well with the use of a walker. She apologized if her gait back to her room was a bit too slow.

It wasn't.

In her room she sat down with a twinkle in her eye, ready and quite capable of discussing her life or anything else one would ask of her.

Mrs. Moore told of her early years in Logan County. She attended Atlanta Grade School, then moved with grandparents for a time in Lincoln as she attended Central School and then Lincoln High School. She also attended Lincoln College and furthered her education in the next several years at Illinois State University and the University of Illinois.
When asked if she always wanted to be a teacher, her reply came easily. "Sure, I was a teacher all my life and I sure am glad." Her first teaching assignment was in the 1930s at Gayle School. When asked what grade she taught, her explanation indicated the times in which she lived. "There were three boys and three girls and I taught them all the way through eighth grade." She fondly remembers those early days of teaching and mentions how she once taught six different children in the same family. "They were all good students," she recalled.
Over her career, Mrs. Moore taught at Madison, Jefferson, Central and Northwest schools before retiring in 1973.
She married Carl B. Moore in 1939 and had two children, Charles and Margaret. She also has two grandchildren, Rich and Margaret. Her husband died in 1960.
Mrs. Moore was asked what the biggest changes have been that she has seen in a century, and she was quick to answer. "Disrespect. Everybody is disrespectful, even of themselves. There is a lack of discipline too." Mrs. Moore also talked about how sloppy people are nowadays. "Clothing, their hair, their shoes -- no one takes pride in how they look anymore." She added an aside: "But no one has gray hair anymore," she chuckled.
She also observed that families are different than they were back before the Great Depression. "No one knows what each other is doing anymore," she observed. She referred to a time when families always gathered for meals and there were few distractions to keep them from staying close as a family.
Times have changed since she was a young girl. She recalled living on a muddy dirt street, Wyatt Avenue. "I remember when they turned it into a brick road," she said.
Mrs. Moore was asked what modern inventions she enjoys the most over what she remembers when she was a child in the early 20th century. Again her response was immediate. "The washer. I never did like those old washing tubs. And the refrigerator." She recalled how her family would put a tag out telling the iceman what size block of ice they wanted for their icebox.
Mrs. Moore is a living archive of countless stories, and she was good enough to share a few.
"There was a lady across the street from Gayle School who made ice cream for every kid on the block. Her name was Mrs. George White. Put her name in the story; she will like that," she said.
Mrs. Moore also enjoys the story where she was out of place one year from her normal third-grade teaching assignment and was a fifth-grade teacher. "It was a nice day and I took the boys outside to play baseball. I was the umpire, and I must have done a very poor job. One of my students, Doug Dutz, came up to me afterwards, and without saying a word to me, took off his glasses and handed them to me."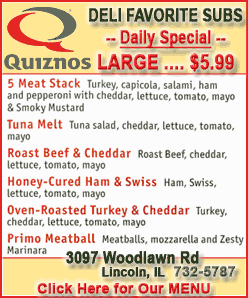 She related another story that simply is called the "skunk story." "Charley (her son) and Bobby Jones, and a few other friends went hunting and Bobby shot a skunk, but got sprayed. They made him ride home in the trunk, he smelled so bad."
Mrs. Moore seemed amazed at how well many of her former students have done. "There are doctors and teachers and lawyers," she said. "They have done so well for themselves." She made the statement more with pride than boastfulness.
Mrs. Moore recalled a story about perhaps her most famous classmate. "I remember Billy Maxwell, famed Lincolnite William Maxwell. He was very shy, and he came to school with long pants on and the teacher brought him to the front of the class to show the new style. He got a lot of kidding from other kids for that." When asked if he was known as Billy back then, she was certain. "Billy -- that's the way he signed my yearbook, I'm sure."
Mrs. Moore was asked what she thinks of the times we live in now. She mentioned how thriving the downtown square was on weekends and how she missed shopping at Penney's and going to the Kresge's. In just a few minutes she rambled through all the names of the stores she recalled on the square more than a half-century ago.
Mrs. Moore was asked if she watched much television, and if she did, what were her favorite programs were. "I don't watch much if I can help it," she said. "I like 'Jeopardy' and other puzzle shows. I watch CNN, but I'm not sure how much truth there is on all those news stations."
As an observer of the Great Depression, she was asked if she thought current times were as bad.
"This might be worse," she said. "In those days back then, we had gardens and chickens and pigs. The horse didn't need any gas, and we used wood and coal to heat homes. We even made our own medicines, which you can't do now. I never had any money back then so I didn't know we were in a depression. It might be worse now, I believe."
It had to be asked: What did she attribute her long life to?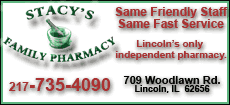 She was certain it was her lineage. "It's in my bloodline. My mother lived to 102 and my dad was 92 when he died." She did add a few beliefs about being so well at her age. "We ate good foods, natural foods, food that didn't have all kinds of things added to them."
Discussing her upcoming birthday celebration on Saturday from 2 to 5 p.m. at the Knights of Columbus, she seemed taken aback when Lou Fitzpatrick told her there would be a bigger crowd to wish her well than there was 10 years ago. "What! More than for my 90th birthday? That party was my funeral. It was a terrible day with a big snowstorm, and 153 people came to the house. They sure didn't come because it was a nice day, so that's why I say that was my funeral."
After visiting with Mrs. Moore, it is easy to say that no one hopes to make that statement about such an event for a very long time to come.
Happy birthday, Mrs. Moore!
[By MIKE FAK]